Examples of Strategy and Implementation
Take a peek inside my wonderful marketing world
Online sales funnels are the modern way to promote your products and services online. This sales process has existed since the dawn of time and is everywhere offline or online. In simple words, it's the journey that your potential clients (also called leads) will follow from the day they discover you until they will buy from you. 
Even marriage is a funnel! Yes, from dating to getting married, happily ever after!; it's a journey – the funnel of love – think about it! 
Fitness Studio during Covid-19 [Result: National Award Winner]
Alison is the owner of a Fitness and Pilates Studio in Ireland. She offers in-person courses to her clientele. Unfortunately, when Covid-19 started across the country, the government locked down all businesses, and Alison had to find a solution. 
Alison had some old funnels created on ClickFunnels a few years ago, and not really automated. We updated all the sales funnels, created new offerings, and automated all her systems using new tools in her business: Active Campaign and Zapier.
Within a couple of months, we transformed her in-person business to 100% online.
Her business now runs with: 
Live sessions

Membership with access to recorded sessions on-demand

Regular Fitness challenges to increase engagement.
Alison received countless positive testimonials from her clientele about this new online system.

Her business is running better than ever.

All her systems are automated with very little manual work.

Most importantly, after 6 months, with all the changes we made, she received the award of

Businesswoman Of The Year 2020 for Business transformation* by the Local Entreprise Office, Ireland. 
*This category is designed to recognise how a local business has moved online or significantly changed its online business presence in order to serve customers whilst maintaining physical distancing.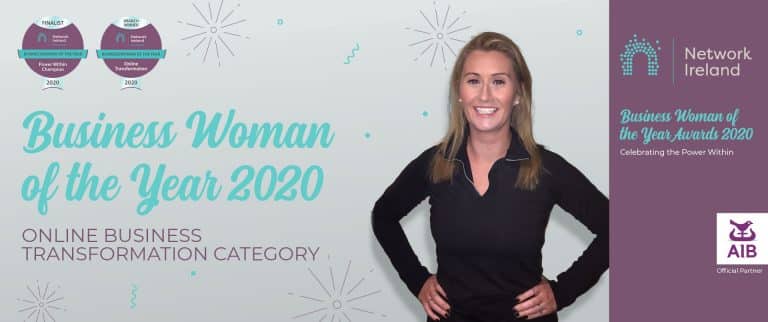 A few of the updated funnels
"Sabrina is really efficient ... she is really one of the few people experts in funnels ... she makes things happen!"
Spiritual Coach & YouTube influencer in the self-development space.
Mina, is an inspirational lady. She is the Queen of Powerful Feminine Inner Work. Her hard work let her build multiple 6-figure businesses on her own, and changed the lives of thousands of women while looking after a family of five.
As of today, my client grew her YouTube channel to 37K subscribers and have students spread over her 26 holistic courses hosted on Thinkific. Most importantly, this business grew with no paid ads – all is done through social media organic reach.  
Thinkific hosts all my Mina's courses. Each course or bundle has a landing page, but it's not an efficient sales system.
As a YouTube influencer, Mina has a huge number of followers on YouTube but never had a system in place to collect their information, and build her list if they didn't purchase from her.
Mina used MailChimp as her email platform. As she built her business, there was no system in place to properly segment her audience and have a targeted email marketing strategy.
Without systems and automation in place, my client did lots of manual work.
Goals:
On the first project, we tackled:
List building with a free offer

Have one product out with one up-sell
Systems:
New email platform: Active Campaign. It's very easy to use, and offers advanced user segmentation. This platform choice is perfect due to the amount of students and the different courses on offer. 

Migration of all contacts from MailChimp and Thinkific to Active Campaign with a granular segmentation achieved by cross referencing purchase data. 

Starting to use ClickFunnels for a more efficient and converting sales process. As mentioned, Thinkific offers landing pages but doesn't give good opportunities for up-sells and down-sells. 

Creating a system where all platforms communicate together using Zapier so my client has more time away from the back-end of her business while offering a better user experience to her students. 
We created three funnels:
A quick coming soon funnel while building funnel one.

One lead generation funnel which offers a free course.

One basic sales funnel which offers a very exciting course bundle and an incredible up-sell offer. 
Through ClickFunnels dashboard, my client has a quick overview for her list building and sales results. 

Mina has access to an in-depth data report inside each funnel so she can see exactly which product performs the best. It will help to optimise the funnel in the near future.  

Everything is totally automated from the leads capture to giving course's access to the users after successful purchases. 
Through organic social media reach, my client has grown her list by 10+% within the first three weeks. It's an average of 10-12 new leads per day. 
The first sales funnel has a 11.11% conversion rate.
"Sabrina created this beautiful experience for me ... she read between the lines ...she is trustworthy, she knows exactly what you need even if you don't"
Local Breakfast Restaurant
When I met with Robert, he had a survey funnel designed inside his ClickFunnels* account. The funnel was not functional. 
*ClickFunnels is a software to build funnel – I use ClickFunnels with this client. I do similar projects with other software such as WordPress, Leadpages, Systeme, Convertri, or Kartra.
List of technical items needed to make the funnel functional:
An email platform connected to the funnel, so my client can collect and communicate with prospects.
A domain name to allow the funnel to be published.
A payment gateway platform to be able to receive payment.
Funnel goals:
Building an email list to nurture relationships with clients.
Sell gift cards to increase revenue. 
Previous funnel design: 
The design (colour, type of font and size) across the pages was  incoherent.
The funnel didn't have a favicon (logo) for brand recognition.
Existing user experience:
The existing funnel used a survey which didn't bring any relevant information to my client and was not useful from a marketing point of view.
From the user perspective, it meant more clicks, so more time spent on the pages for no reason. 
Challenges: 
Robert is not comfortable with technology. The gift certificates sold inside the funnel are delivered manually. However, the way to retrieve the shipping information inside ClickFunnels is not user-friendly. So, I had to find a way to bring to my client all the details in a clear and easily read format. 
Funnel before our project:
Design:
The overall funnel design needed an upgrade, so we decided to create a new design.
The funnel offers free breakfast for a customer's birthday, and the offer is called "The Birthdays Club". The theme of the funnel is a combination of my client's restaurant colour palette and "party time".
Functionality:
We fixed all the back-end issues of his funnel to make it functional.
Connected ClickFunnels with MailChimp so my client can send emails to his customers to increase repeat sales by promoting special offers or events. 
MailChimp is the email platform used by my client. This platform may not be appropriate for complex marketing. However, in the case of a small local business, it works well. 
Integrated a new domain name hosted on Namecheap hosting platform with ClickFunnels so now the funnel is published on the web and is live. 
Payment accepted through Stripe (online software like a bank system online), so no more fear of missing out on sales.
As noted above, the survey element was irrelevant and we removed it so that the prospects have a smoother online journey.
Make it easy!
We created a system with multiple automations through Zapier* , which sends an email to my client for each gift certificate purchased in the same way an assistant would do manually (in clear, plain English!)
*Zapier is an online automation tool that connects apps together so that businesses can easily automate repetitive tasks to free up time and save money. 
This system is cost-effective and doesn't require my client to log into any software at all!
As Robert is a "technophobe", this system made him extremely happy because now he need not learn to read complex data or log into multiple tools to see his sales. 
Funnel after the project completed:
Lead Generation Funnel and Self-Liquidation
When a business decides to gain leads, the first step is to create a funnel called "Opt-in" funnel or "Lead generation" funnel. 
The strategy is to create an item that will provide value to a targeted audience. We will then give this item away in exchange for a potential customer's information such as their email address and name. 
This type of funnel generally has two pages: the "sign up" page and the "thank you" page. 
This method works really well for someone who is just starting his or her business, or for a business which doesn't have a paid offer.
When the business has a paid offer, we will upgrade the funnel into a "self-liquidation" funnel (SLO). The funnel will now have four pages. 
The SLO funnel is good for low-cost offers and usually will help to pay for ads. 
Below is a 4-page funnel that I use in my business: 
The goal of this project was to gain new members in a yoga program.
A video sales letter (VSL) is a very powerful technique.  This is because we can control how we deliver our sales pitch (versus a written sales page), so potential clients can see the real value of our offers and have a better understanding of the cost of the products/services. 
VSL is a great way to connect more closely with potential prospects for a middle-range price tag. 
Funnel Pages with Shopify
I integrated a funnel with a client's Shopify account. 
Katharina sells handmade and personalised jewelry items for girls. This funnel campaign went live during winter 2018/2019 with seven different offers for this unicorn theme. 
She sold the items through the funnel. In the back-end, the funnel was connected with my client's Shopify account and all orders were processed through this account.
E-commerce businesses have their own specific platforms to sell physical goods. These platforms are generally easy to use, cheap, and handle lots of tasks such as packing, shipping, etc. 
When you can combine the strategy of a funnel with your E-commerce platform, you have a very powerful combination to increase your revenue. 
Do you want to grow your list, sell your products, courses or services online?