Membership right or not for you is the part one of "Profitable Membership Site Blueprint" mini series.
At some point, in your freelance life, you think about additional or alternative forms of income outside your core services. Are you working long hours, or do you feel like you aren't reaching your potential? The temptation to switch to a more "passive" source of income is bound to tempt you to make a change, eventually.
If you consistently feel there must be a better alternative for earning a living, you'll think of creating and selling courses, ebooks, or even building your own membership site; all these are great ways to increase your income and bring balance in your working life.
The thought of creating a membership site can be tempting. You want recurring monthly income, right? However, membership sites aren't the best option for everyone. Yes, they may seem like the 'holy grail' of passive income, but they're rarely passive and building a successful membership site takes a lot of work! So, before you create a membership site, it's crucial to think about every angle of the opportunity.
Things to Consider before starting a membership
Running a successful membership site doesn't just happen overnight! You can't set up a membership site, create content, and expect dozens of customers to join instantly. To help you determine if a membership site is right for you and your audience, you need to have solid answers to these 4 questions before getting started.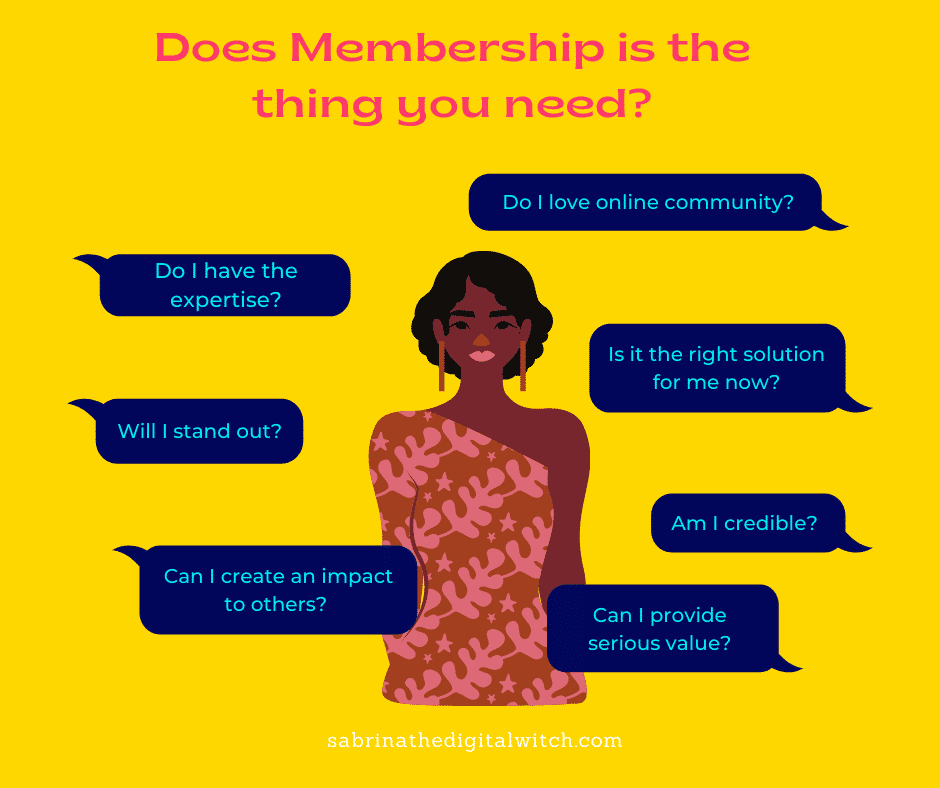 Do you have the expertise people will pay for to learn?
Do you have information, expertise, knowledge, or skills that others can learn in order to achieve a specific goal? Can you teach people to create great copy for their website? Can you teach them how to make money from their blog or home?
As a business owner, you have skills and knowledge. But what can you offer that people will pay for? Remember, you don't have to be the leading authority to teach something to others. You just need to be more experienced or knowledgeable than the people you're teaching. If you can teach others something they want to learn how to do value and help people to achieve their goal, you're off to a great start.
Do you love being part of online communities?
This is important because if you hate hanging out in Facebook groups or other online communities, a membership site might not be right for you. Membership sites have a heavy community element and they're all about online communication. If this scares you, a passive approach such as a course or ebook might suit you better. If you've never been part of a membership site, join one. You can't know if a membership site is right for you if you don't know how they work.
Before building a membership site, dip your toes in the membership site pool and see if you enjoy it from a member's point of view. This'll give you a glimpse of the different ways to run one, and it'll help you figure out the membership site you want to run.
Are you doing it for the right reasons?
Membership sites aren't an easy ride. To be truly successful, you must put in effort, and energy. So, if the only reason you want to create a membership site is to make a lot of money quickly, then running a membership isn't for you. However, if you want to share your knowledge and skills with a large audience who can benefit from what you're teaching them, a membership site may be perfect for you.
How can I make my business stand out?
It's true that all the good ideas have already been done and anything new is just a new version of something existing. However, if you have a groundbreaking idea, but it's never been done before, there's a reason for that. For instance, there are thousands of online courses teaching how to build an online business. But you can differentiate yourself by making your journey public, from being a clueless entrepreneur to building a successful online business.
The unique components of your site and business separate you from your competition that may lack credibility and success stories. So, if there are others doing what you want to do, focus on how you can be different.
Benefits of Running a Membership Site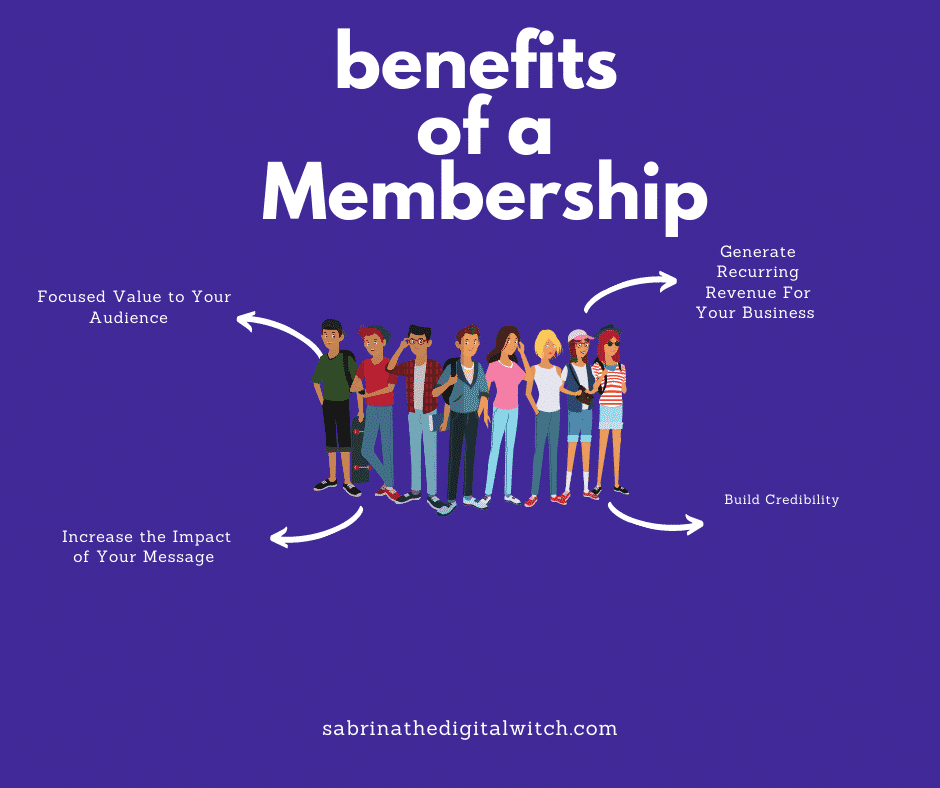 There are many benefits of running a membership site. Maybe you want to create a private area for your audience, showcase your knowledge, and expertise on a certain topic, or share your passion and interests.
Deliver More Focused Value to Your Audience
We all want to make a difference. And sharing your wealth of knowledge and expertise is fascinating. So, limiting access to your stellar content with a membership site is a good way to increase the value of your top-notch expertise.
A membership site can help you create content that enables you to go deeper into the subject matter than you would in a blog post, or a podcast. For instance, you can create introductory courses and build on that basic content to create advanced content. So, a membership site can offer you an opportunity to deliver more focused, in-depth value to your audience without having to read several blogs.
Increase the Impact of Your Message
Feeling like your words are falling on deaf ears? This is a bad feeling especially if you believe in the value of your message. As humans, we value things that require something from us. When people pay a membership fee to access your content, they'll have a reason to pay attention to what you're offering them. The more they soak in, the more they'll benefit from your message.
Generate Recurring Revenue For Your Business
The thought of recurring revenue is a strong motivating reason including a membership element in your business. Although not every membership site should have the price tag attached to it, there are many ways to monetize your members-only area.
For instance, you can set up a monthly or yearly membership fee for your site or you can require members to purchase their access to various areas of your site. You should spend your time creating the content once, and then you should continue getting recurring revenue for your efforts.
Build Credibility
One of the primary benefits of building a membership site is that you can establish yourself as an authority in your niche. People don't just pay for access to information, they pay for expertise.
When you offer your expertise and knowledge as a service, you'll position yourself as a leader in that niche. Plus, the more valuable your offer, the more reliable and credible you become to your target market and potential customers. By bringing new content to the table, you and members benefit. Your members get useful content, and you build trust and a reputation for yourself.
Drawbacks of Running a Membership Site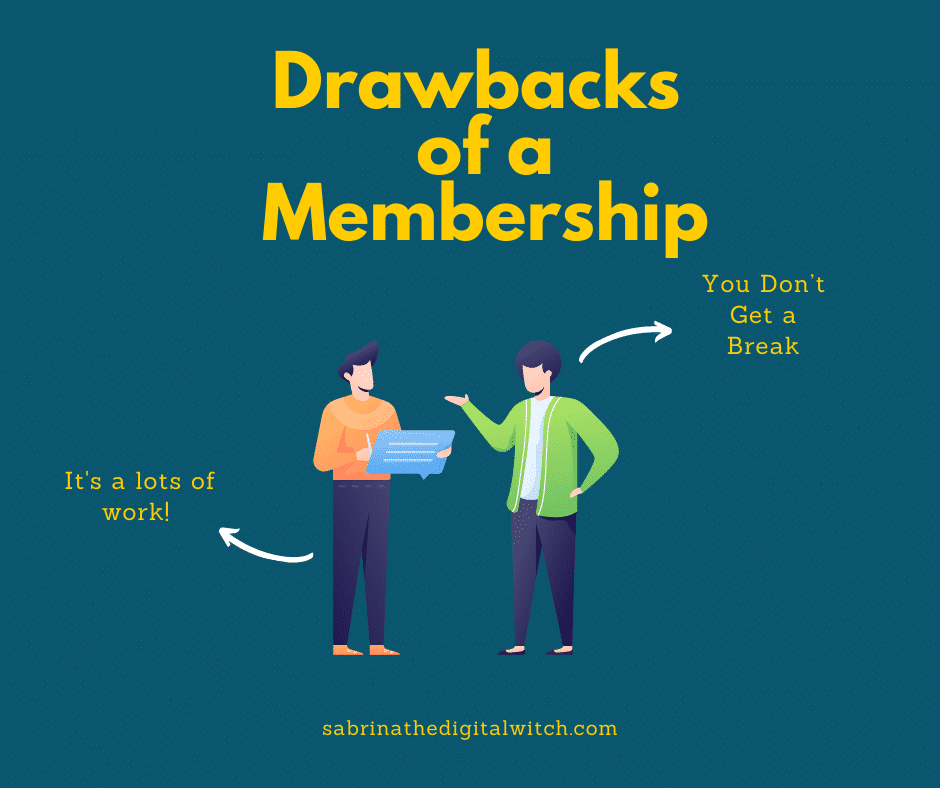 Membership sites are a great way to earn passive income online. But, it's not all sunshine and roses, when it comes to running a membership site. There is a lot to do.
It Takes a Lot of Work Up Front
You must choose a niche, an audience, create valuable content, set up the payment processing, set up your marketing funnel, build a hungry audience, build an email list, and prove your authority. This takes a lot of time and effort. But don't worry; it's worth it.
You Don't Get a Break
You have to show up every week no matter what, you can't email and say, "I'm off this week, but I'll be back next week" unless you want an angry mob to come for you. However, you can hire someone who knows the ins and outs of the program. Or, you can plan ahead and do twice the work for one month so you can take the next month off.
Things to Consider Before Getting Started
Existing Audience
Before starting your membership site, make sure you have an existing audience hungry for what you're offering. If you don't have an audience ready for the content, products, or services, then establish a clear and elaborate plan for building that audience.
You can do this by building a blog and proving you know what you're doing; it'll help you build a reputation, and a network to cater for. Building an audience first will make sure that once you launch your membership site, you'll do so with positive momentum.
Skills and Knowledge
A great idea is worthless if don't have the skills or the background to be the one to create it. It's your knowledge and expertise that'll help you be able to create a successful membership site that offers value to your audience; this'll keep them paying to get more from you.
Having a membership site will require you to dig in and know how to do things. You don't have to everything yourself, but you must take time to understand the tech stuff so you can delegate them.
If you like delegating, be ready to make a huge investment to get your site up and running. However, don't be afraid if you aren't tech-savvy; just be ready and willing to learn.
Determination and Dedication
Are you ready to put in a lot of work and learn from the best? Most people think membership sites require less work. However, when you're starting, this is not the case. You put in a lot of effort during the first year doing a lot of things yourself because you won't have the money to hire and delegate yet.
For instance, you'll be creating the content, your launch calendar, and your Facebook ads and you'll be emailing members with credit issues. You might need to field questions in Facebook groups or answer members' phone calls. This happens.
But all this hard work will be worth it once you gain momentum and hit your member goals and your retention rates improve. But it won't happen overnight, you must be ready to work.
Pricing Scenarios
As you build a membership business online, the first decision you need to make is pricing. What type of pricing option do you want to use for your membership site?
Offer and Pricing
Remember that pricing should always match the value you're offering. So, before you start drooling over hundreds of members ready to pay you a recurring fee every week or month, ask yourself how your membership site delivers value to its members. Is value delivered consistently over the lifetime of membership?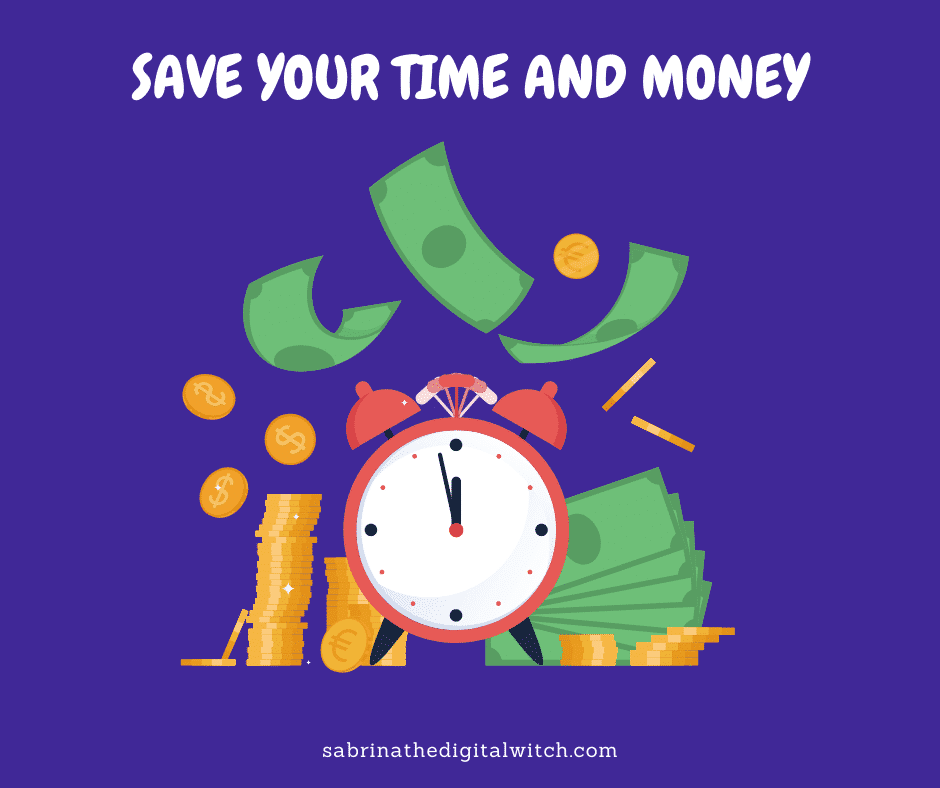 Your answer to this basic question will determine your pricing options. Think about value pricing in terms of how much you want to earn. So, how much do you want to make from your membership site?
This may seem like a silly question, whose answer is "As much as I can!" But be honest with yourself and set a realistic revenue goal. This revenue goal will help you determine your membership pricing. For example, say you set your revenue goal at $40,000 per month. You can achieve this through several pricing scenarios:
1,000 members paying you $10/week.
1,000 members paying you $40/month.
1,100 new members committed to paying you $37/year.
Take A Decision
Determine which of these pricing scenarios is most achievable for you. Start by figuring out how you can deliver value along the timeline of the site to keep members. Also, determine if it's possible to grow a member base of this magnitude.
Choosing the right price for your membership site can be a daunting task. You'll probably go through a trial-and-error process before you figure out the right price to charge for your membership site. Remember, if you charge too much, you'll struggle to attract new members. And if you charge too little, people might doubt the value of your membership site. So try to find the right balance between charging too high and too low.
How to choose?
These factors will help you determine how much to charge your members:
What's the cost of creating the content you're offering in terms of effort and time?
The quality of the audio-visual content.
What are your competitors charging their members compared to the value they're offering?
What's the financial or emotional value of the "results" members get after investing in your membership site?
What target audience do you want to attract and serve on your membership site?
How much personal access will you offer your members? To get maximum profit, your pricing should be relative to the value exchange and access to your time.
What's the operational cost of running and marketing your membership site? Also, factor in the profit margin you expect to make after deducting those costs.
However, if you're still not sure what to charge, the best scenario is to price your membership low and then raise prices as the membership site grows.
Churn Rate
To become a successful membership site owner, you must know your numbers. If you don't know how your business is performing in crucial areas, you'll have no basis for growth and improvements. You also won't know if your site is doing well or failing.
For every business, customer retention is just as crucial as gaining new customers. It's easier and cheaper to keep existing customers than to attract and gain new ones. With membership sites, the longer a member stays, the more money you make off them.
What Is Churn Rate?
Churn rate is the rate at which you lose members. It's a crucial metric, which you should monitor. To calculate churn rate, look at how many members were there on the first day of the month and how many are still there on the last day of the month.
For example, if you have 1000 members on 1st January, and 900 on January 31st, then your churn rate for that month is 10%. When calculating churn rate, we ignore new members who join during that period.
You should aim for a churn rate of no more than 5%; however, for membership sites focused on e-learning and community, aim for 5-10%, which is more realistic. If content, products or services reach a point where members no longer need it; your churn rate will become higher.
So, if you do nothing to improve your churn rate; it'll kill your site, or it'll limit your growth. It won't matter if you're significantly adding new members every month. Eventually, you'll reach the plateau point where churn rate equals new sign-ups.
How to reduce churn rate?
Now, what can you do to reduce your churn rate? Start by knowing which members are ready to jump ship. After figuring out who your least engaged members are, target them individually and use the best retention tactics to keep them. Also, find out your most engaged members and target them for upsells.
Also, if your site has a high churn rate, consider asking feedback from customers. Send regular surveys to your members asking them what they find most valuable about their membership. Leverage customer feedback to lower your churn rate.
When determining when to offer incentives, consider a customer's timeline: if they're at the end of their contact and you're worried they won't renew their membership, offer them a discounted renewal rate; this may push them to stick around.
Consider customer needs. If you predict a customer will cancel their subscription once they realize your offer isn't what they were looking for, incentivize to stay, as you try to build a feature that'll help them achieve their goals.
While lowering your churn sounds like a big undertaking, it's worth prioritizing because a 5% increase in customer retention can boost profits by 25% to 95%.
Niche Membership Site
Membership sites are a fantastic way to earn recurring income, but choosing the right niche for your site is important. So, determining your membership site niche is the most crucial part of the process.
Don't rush!
Take your time when choosing a niche. List down all the ideas, research and then rank them from best to worst. Because you want to make sure all the time and effort, you'll invest into your membership site is worth it.
Be Prepared
Once you have a list of ideas, narrow them down by asking these set of questions:
Is there a strong demand and interest for information on this topic?
How is the competition in this niche? Can I compete with the existing membership sites?
How much time am I ready to invest in researching and keeping up with news and updates on this niche?
Can I create content on this niche consistently?
Is there an existing audience willing to pay the membership fees?
Pick Your Niche
Now, your list should be around 3 to 4 ideas. Focus on these ideas as much as you can. And if you're left with ideas that are related; see if you can merge them. The ideal niche should be very specific.
For instance, instead of saying "I want to teach copywriters about copywriting strategies," you can narrow these further and say, "I want to teach funnel copywriters about funnel marketing strategies."
Whatever idea you choose it should be something you're passionate about, something you're knowledgeable about, and something that has an audience willing to pay for it.
However, running a membership site doesn't mean you have to be an expert in the niche. The best membership model is where you're the publisher and engage experts to create the content. The content could be in the form of interview, podcast, video, or blog posts.
Your site should revolve around one primary niche and solving the related problems your members' have. You must have a deep understanding of the challenges and problems that your audience struggles with and then offer them a practical solution. Whether it's helping them earn money online, learn new skills, or do tasks easier, figure out their pain points and create ways to solve those problems.
Creating In-Demand Products
As you long as you continue delivering value to your audience in the form of content, resources, solutions, and products, they'll stick with you because they trust you, your expertise, and they know you provide the items they need and want. So what content can you add in your membership site to make sure you keep up your side of the bargain?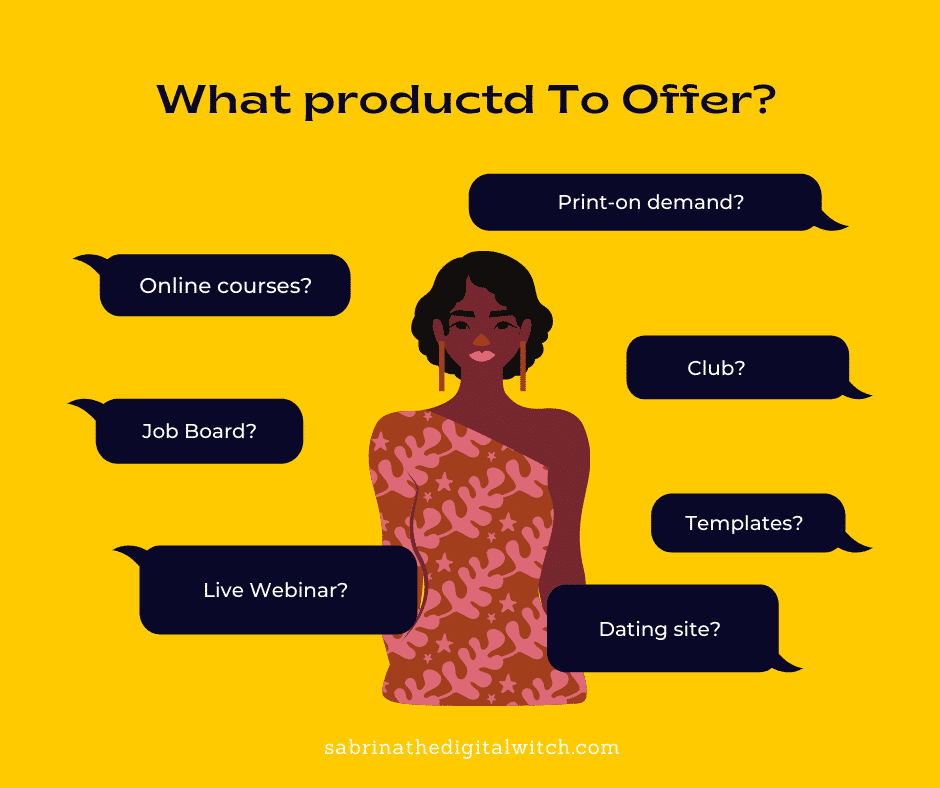 Online Courses
You can provide online courses through a membership site by making sure your educational content is in a restricted area that's only accessible to paying members.
Online courses are popular because they're in demand in every niche. Think of any random thing that can be taught, and probably there's an online course for it. Also, you can tailor your courses such that the content, mode of delivery, and payment frequency coincides perfectly with the subject and your target audience.
For instance, you can create a huge online course, upload everything, and charge a monthly fee for access to the content. And once members have gone through everything, they can cancel their subscription. If you want long-term members, you can drip feed new content every month, so that members continue to learn on the membership site for a long time.
The most common form of online courses is video, but you can include any format of content such as checklists, ebooks, worksheets, and even self-assessment tests.
Live Webinar
If you don't want to create the content upfront or your niche is not suited for creating courses; you can run live-training calls or webinars to deliver value to your audience.
The webinar format is great for encouraging discussions among members. It's perfect for bringing in guest experts, exposing your members to additional experts, while reducing your content-creation workload.
Job Board
You can create a community-based membership site based on getting hired in a certain industry or niche, and how to do those jobs well. Your membership site can be a link to companies looking to hire and people looking for jobs.
Also, you can host forums for members to interact and share useful industry information. And you can add resources on how to do these jobs well and how to be the best candidate for a certain position.
Club
Yes, I know it sounds like high school but running a membership site for genuine enthusiasts in your niche can enable you to build a thriving site with a potential profit.
You can offer training and resources for newbies, the latest news and buzz surrounding the niche. Also, you can provide a forum for these enthusiasts to get educational information and take part in productive discussions.
Because this is a community-driven site, you can promote some members to be forum moderators instead of doing everything yourself. This will give members the impression that you trust and value them, which will increase their trust in you.
Dating Site
Don't laugh. But over 600,000 eHarmony couples have gotten married, and the site has over 750,000 paying members. Online dating is challenging, and this is where you and your site could come in.
The goal isn't to be the next eHarmony; it'll be an uphill if you want to compete with them. The goal is to succeed in an already crowded niche by being specific with the members you accept.
Narrow down your ideal member significantly. Target by religion, specific hobbies, or specific interest they may have. For example, you can build a dating site specifically for gamers.
Strategy/Goals For Creating a Membership Site
One of the biggest mistakes in launching a membership site is rushing headlong without validating your idea. Chances are you may end up investing time and money implementing an idea that turns to be a bust.
This is why you need to do your research to find out if there is a need for your niche and it will work before you launch the site. Here are steps to help you validate your niche.
Conduct Market Research
Find out if there are membership sites, products, or services that address the problem you want to solve. If there are, this means there's a demand to solve that problem. Don't be afraid of competition; figure out what's working and what's not, and come up with a way to offer something better or different.
Create Your Minimum Viable Product (MVP)
Confirm there's a demand for your niche, save time and effort by creating a smaller version of the membership site you have in mind; this called an MVP. An MVP is a viable product but it's a smaller version of the full membership site you want to launch.
For instance, if you're planning to create a membership site for an online course to teach video editing, you can create a 10-to 20-minute video teaching a specific technique as your MVP.
Offer Your MVP and See How it Performs
A great way to test how your MVP is received involves building a landing page for it which has analytics built-in and then promoting the landing page.
Promote the landing on your blog, on social media, or you can use Google ads if you have enough budget.
Study analytics and see how many people downloaded or joined versus those who saw the landing page.
Get feedback from those who signed up for your MVP and offer an incentive for filling out the feedback form. Use the feedback you collect to improve your MVP.
Rinse and Repeat Until You're Sure it'll Work
If it works out the first time, good for you! You can move on to the next step. However, if not, then it's time to tweak your ideas, experiment with your MVP and keep at it until you're sure it'll work.
If you've done many changes and still the demand doesn't look promising, that's fine. It means you have to go back to the drawing board and brainstorm ideas again. Sounds like a tedious task, but that's part of the process.
The goal of the MVP is to enable you to test out different ideas with minimal risk. Imagine if it had failed as an actual live membership site and not an MVP. Think of all the time, effort, and money you'd lose.
Membership sites are powerful. They're a great way to build a recurring revenue stream for your business and create a loyal fan base. If you're thinking of creating one, it's time to put the strategies discussed in this report into action.
Right! Now that you have decided that you wanted to create a membership model, let check the whole mini-series: Profitables Membership Blueprint.
Do you feed like you could use some help? (at least to start …) Book a free discovery call.
Don't stop there! Share, bookmark it, and pin it!