Depending of the type of offer you want to promote, you will need to decide which type of funnel you want to build. In this article, I share with you the most common funnels you can create, and a short resume of what they are.
Sales Letter Funnel
This funnel uses a long form sales letter to sell the product or service up front.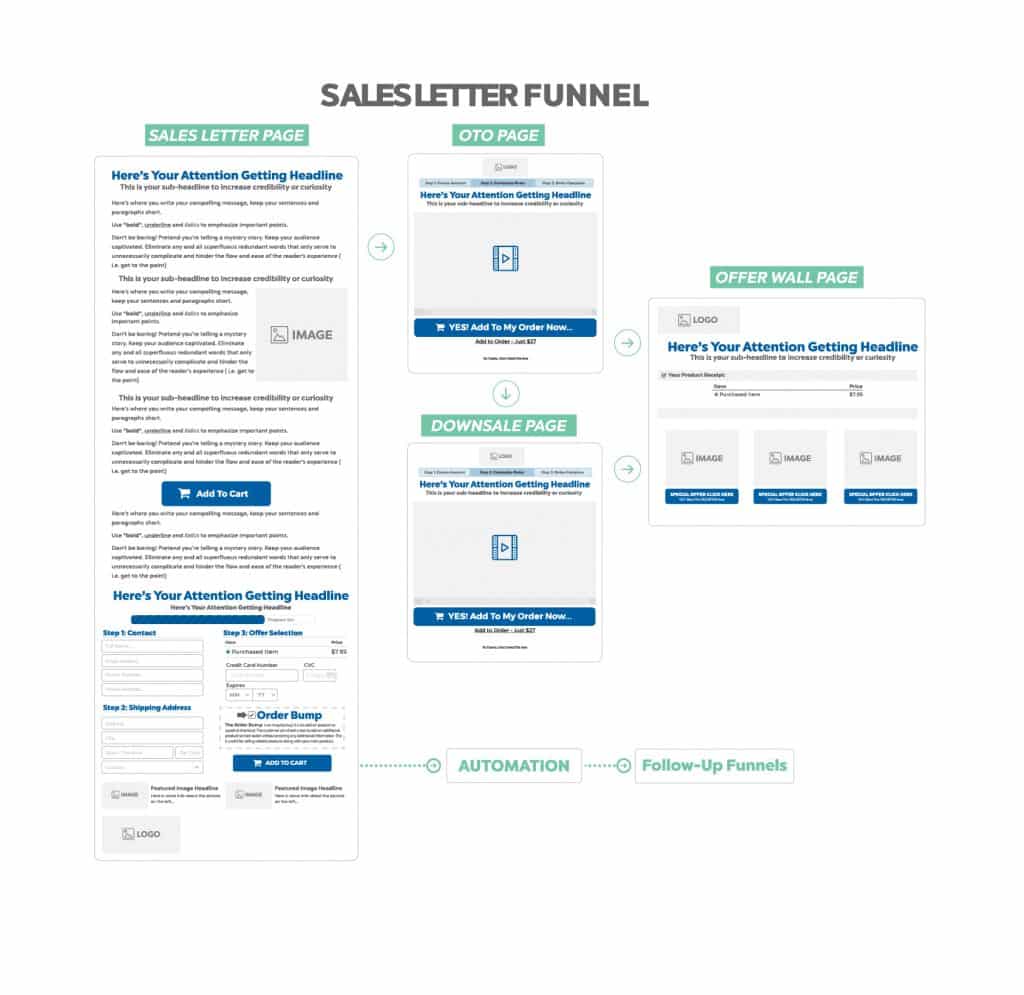 The sales letter sells your front-end product, and then you have upsells and downsells immediately after the main offer to increase the average cart value.
Self-liquidation offer, or SLO, is another name for this type of funnel. The primary strategy is to acquire leads at no cost – the sales cover the cost of the ads. Noways, its common to see profitable SLO funnel tho!
Squeeze Page
Use curiosity to generate leads with this simple two-page sales funnel. The goal of a squeeze page is to get your visitor to give you their email address.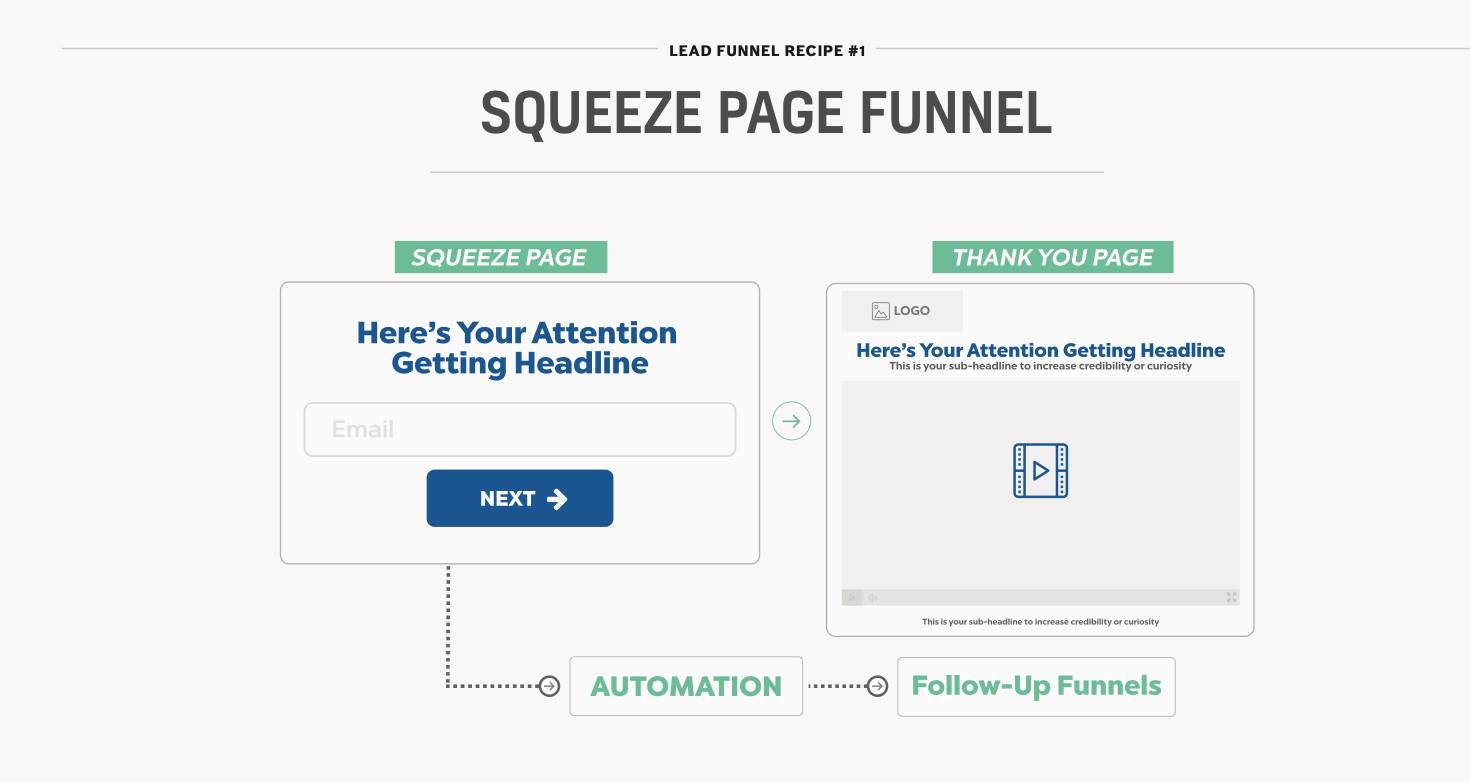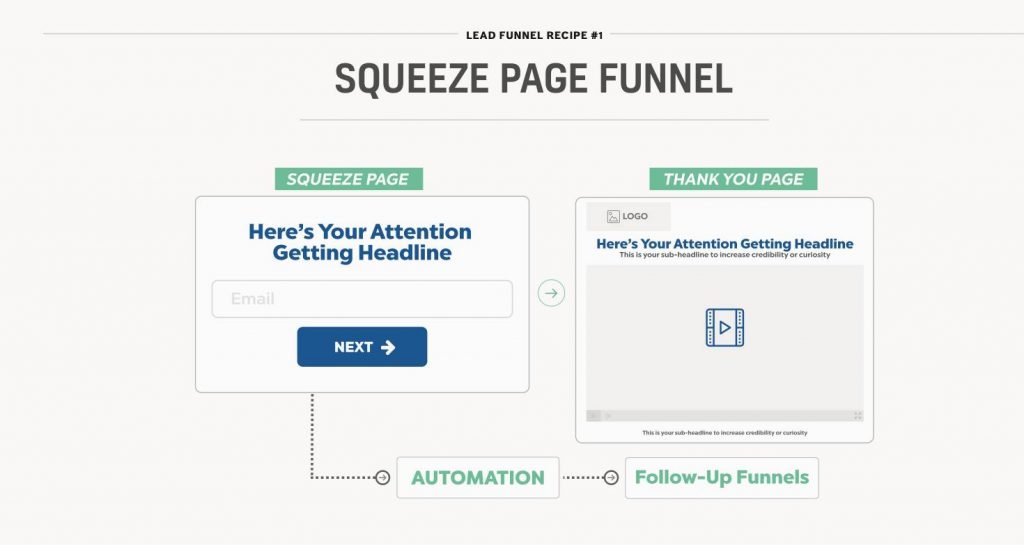 These pages have very few other distractions. Often, not even a logo on the page or any complicated footers or extra links. The #1 secret to get the highest conversion rate on a squeeze page is to use a curiosity-based headline. Then they must put in their email address and click "submit" to figure out the answer to the question.
Video Sales Letter
A video sales letter funnel has a video that makes the sale for your product or service. Often people will hide the "Add To Cart" button until after the video has revealed the price. This is not necessary, but simple to do inside of ClickFunnels.
The video sales letter sells your product, you can include an order bump on the order form, and then we normally have an upsell and potentially a down sale.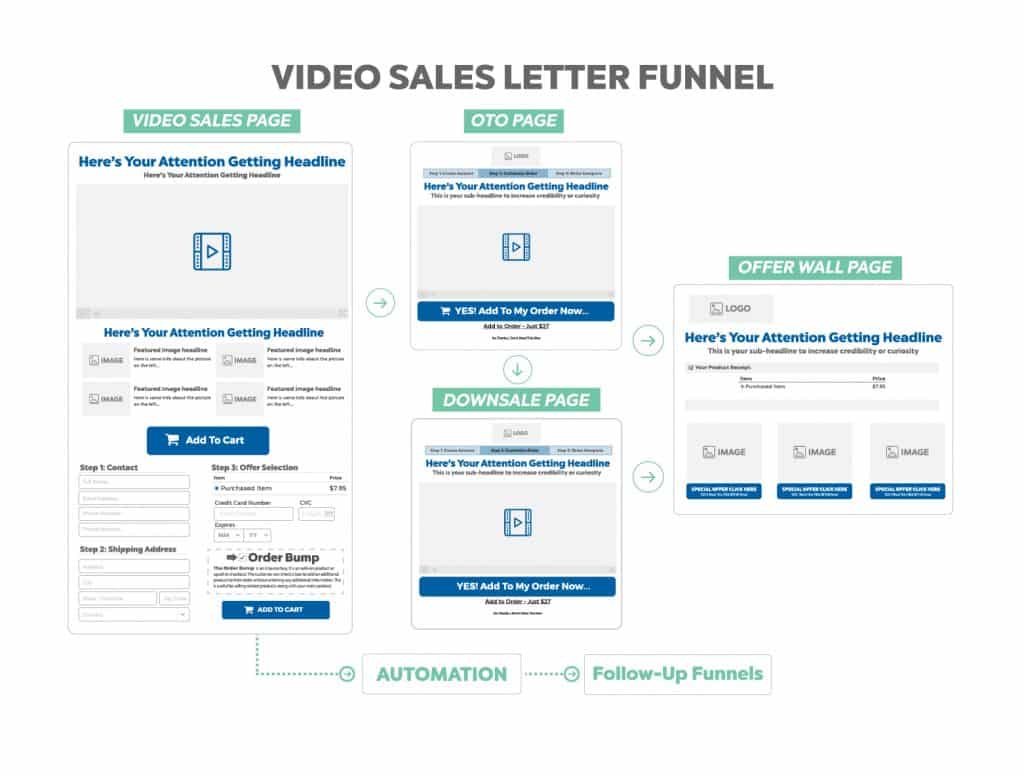 Reverse Squeeze Page
Give value first, then ask for their email with a reverse squeeze funnel. Use a Reverse Squeeze Page Funnel to give before you take. Give away some of your best information and items before asking for a visitor to opt-in. Then, ask customers to "opt-in for more" after they watch the video.
Invisible Funnel
Sell access to an event but charge them after it's over if they like it.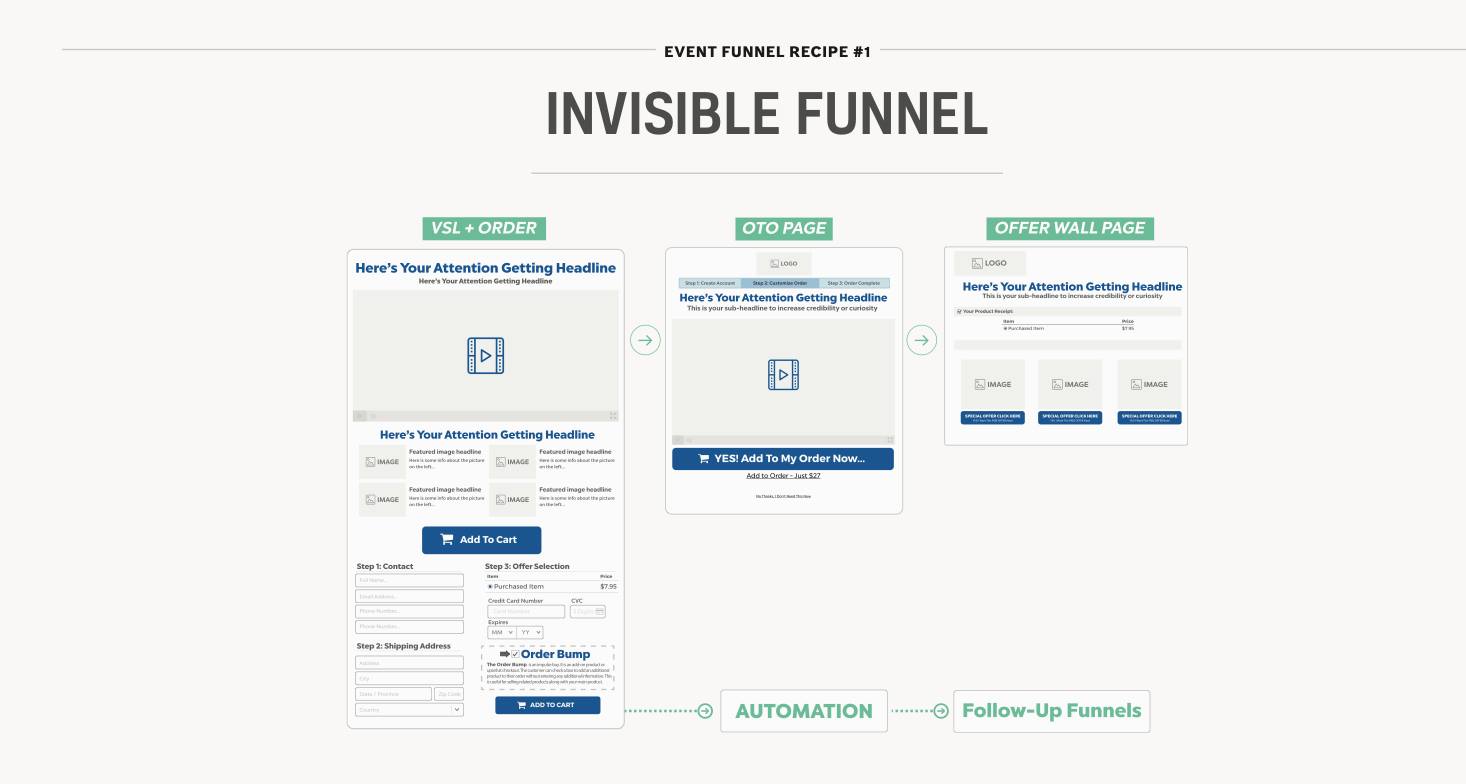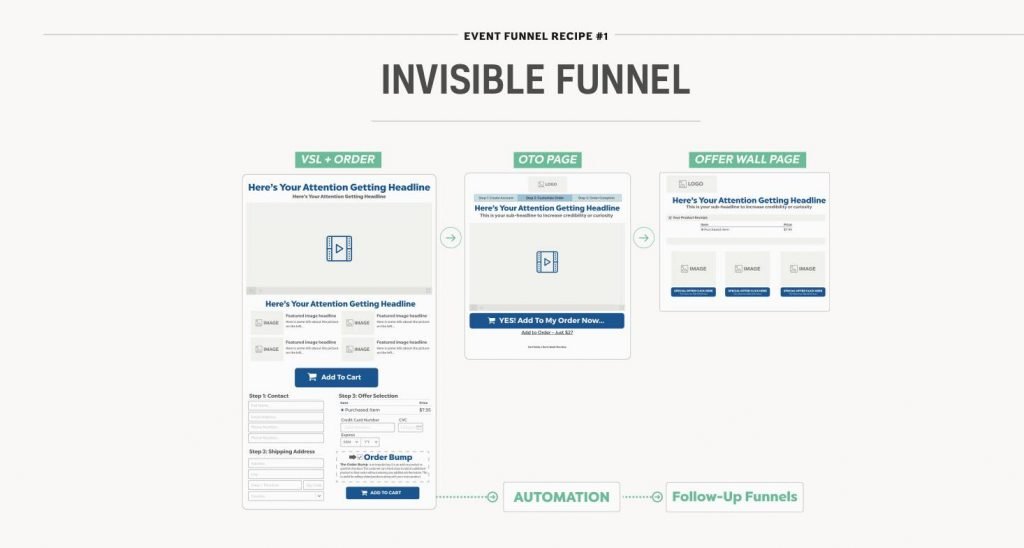 Invisible Funnels work by giving away a lot of value for free upfront and only charging if the customer liked what they received. It is like going to a restaurant and only paying if you liked the food. Although it is free to attend, visitors book their seat after the Video Sales Letter (VSL) on the first page by entering their credit card information even though no money is charged.
Lead Magnet
Give people an ethical bribe in exchange for their email address. A lead magnet funnel is like the other opt-in funnels, except you are giving away something in exchange for their email address. It may be a report or video, but it's typically something tangible that they are exchanging for their email addresses.
You can see a live example with my Secret Product Planner.
Webinar Funnel
This funnel will get people to registered and attend your webinar events. The Webinar Funnel gives the entrepreneur more time to close potential customers at a higher price point, as most webinars are at least one hour long, and gives more time to address the false beliefs of customers.
Webinar Funnels are an "event" and are broken into two phases.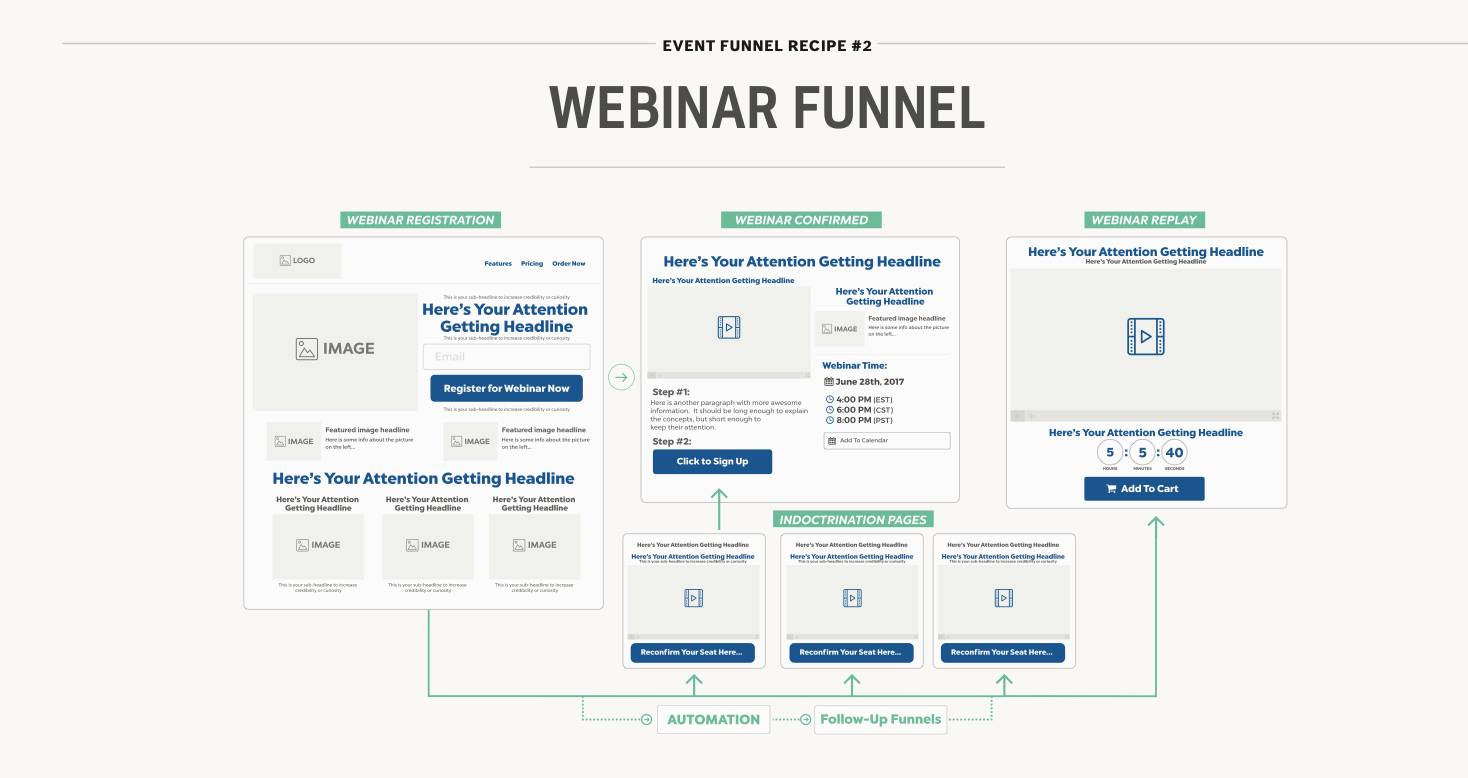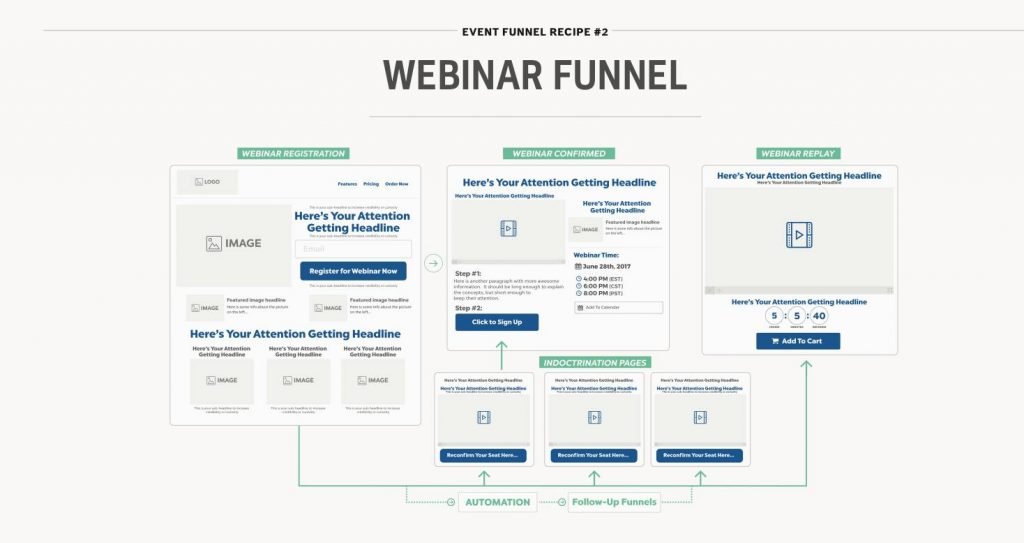 Application Funnel
Have people apply to work with you through an application funnel. Application Funnels works by using a "take away" sale, where the potential client must 'apply' to become a client. It lets you qualify people to work with you and is used often in high end coaching and consulting.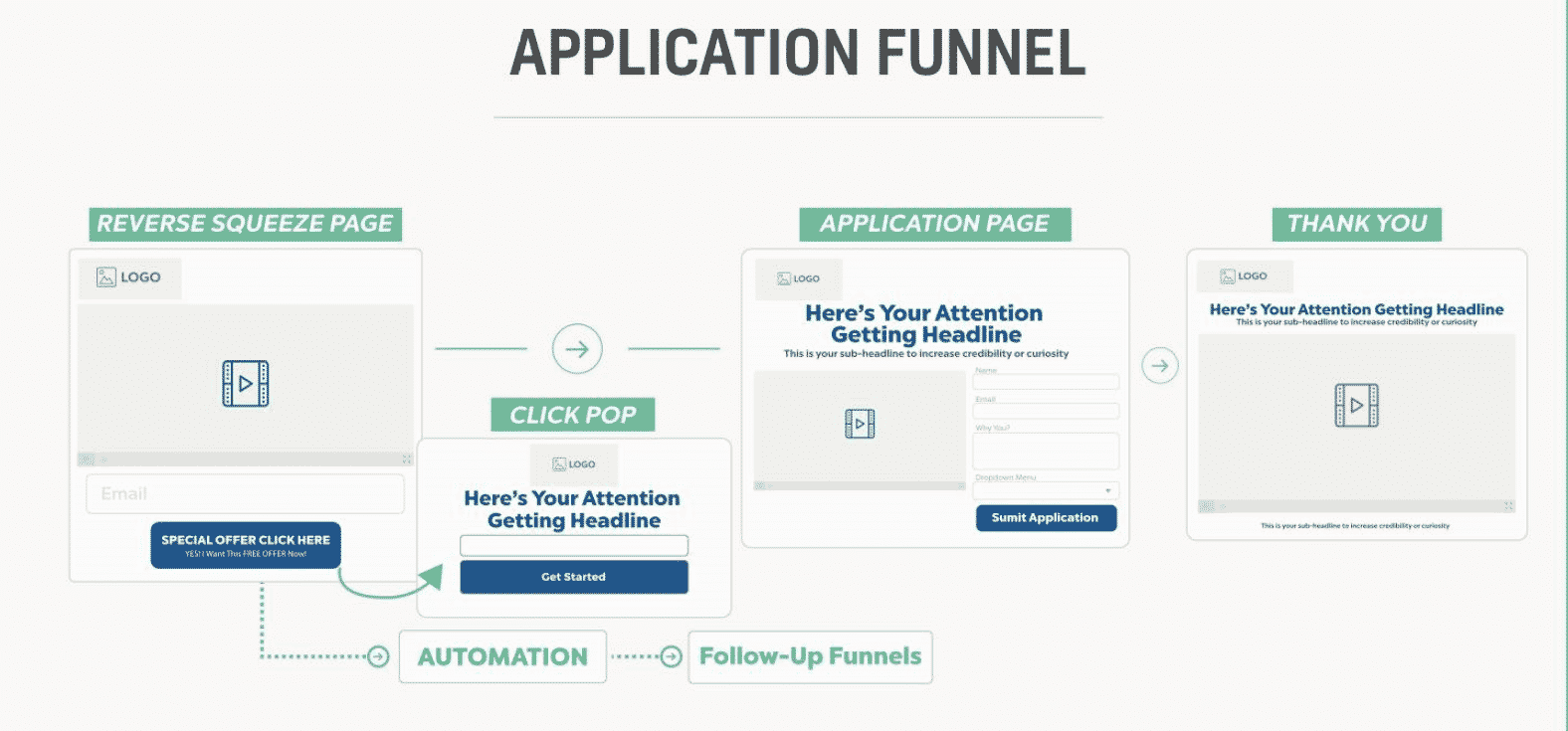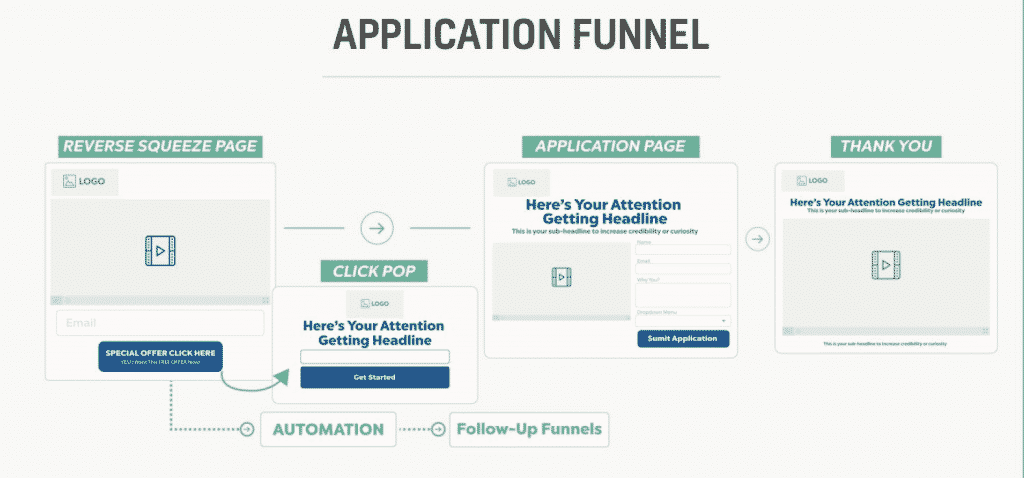 Product Launch
Built anticipation for your new product with our product launch funnels. The Product Launch Funnel lets an entrepreneur build anticipation before a customer can buy a product.
Small marketing "previews" about the product are sent, usually at least a day apart, to build scarcity and urgency for the final day when the "cart opens" and customers may buy for a limited time. A defining feature of the Product Launch Funnel is closing the cart after a few days.
This concept was pioneered by Jeff Walker and helped thousands of entrepreneurs to launch new companies overnight.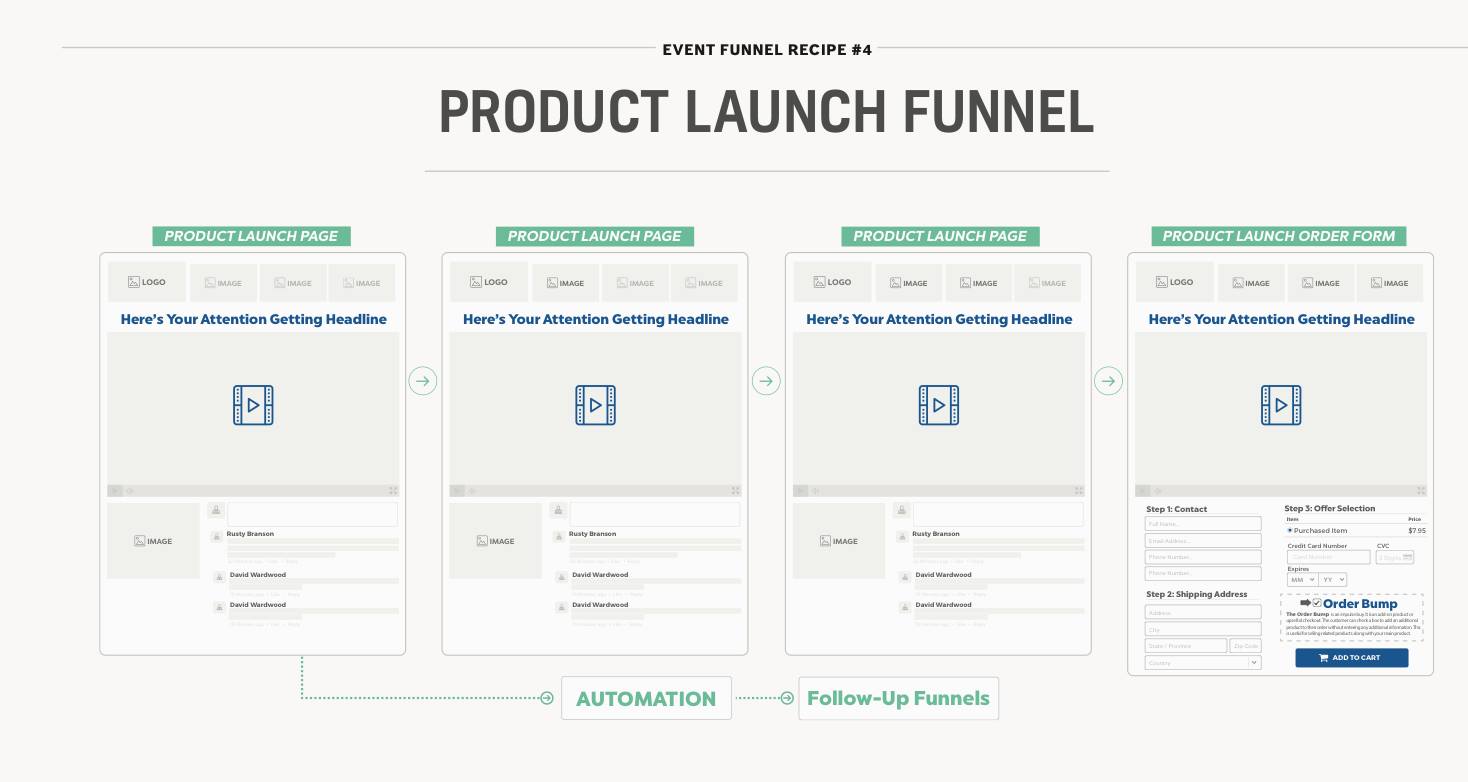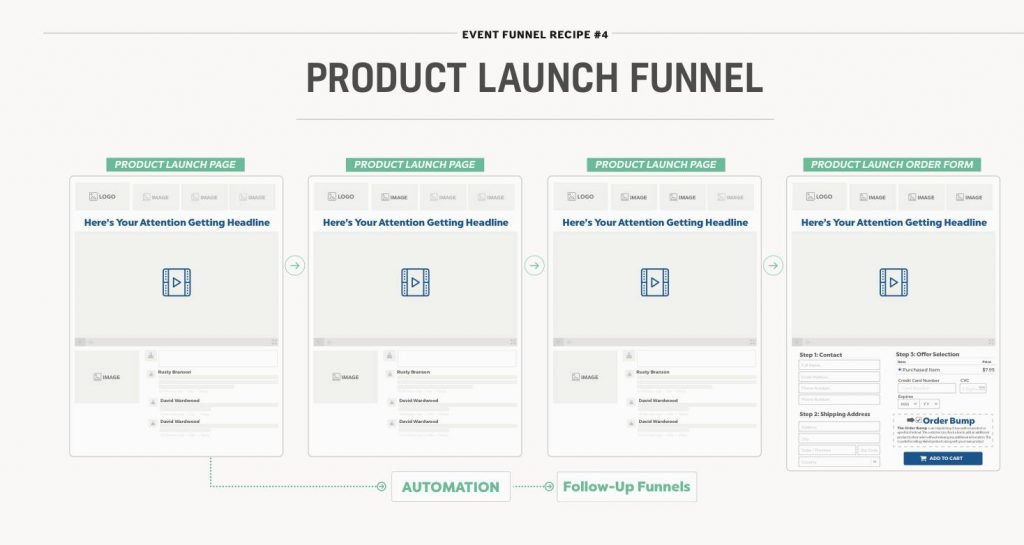 Cancellation Funnel
The Cancellation Funnel is used when a customer is trying to either refund, cancel a service, or return a product. Many times, they are cancelling because they don't understand something about what you offer.
Doing a quiz first lets you figure out what their specific concern is, and then you can try to save the sale on the next page. This can drastically reduce refunds, cancellations, and churn.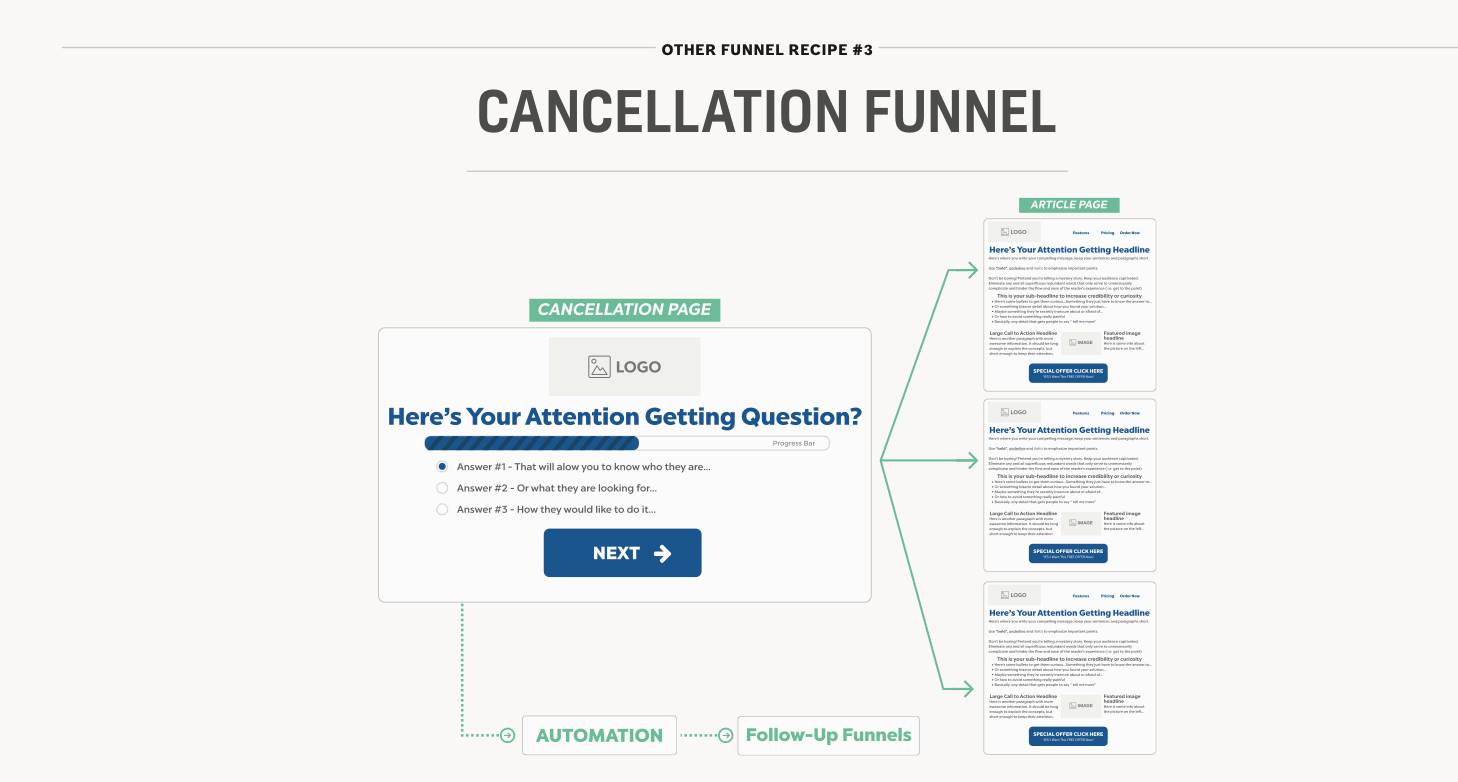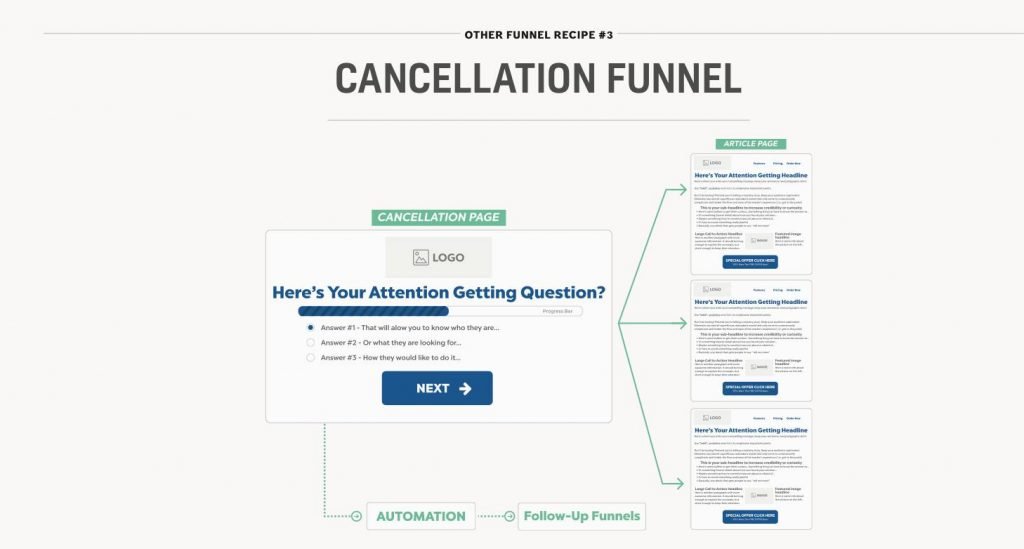 Membership
Create a membership site and sell access to it through this funnel.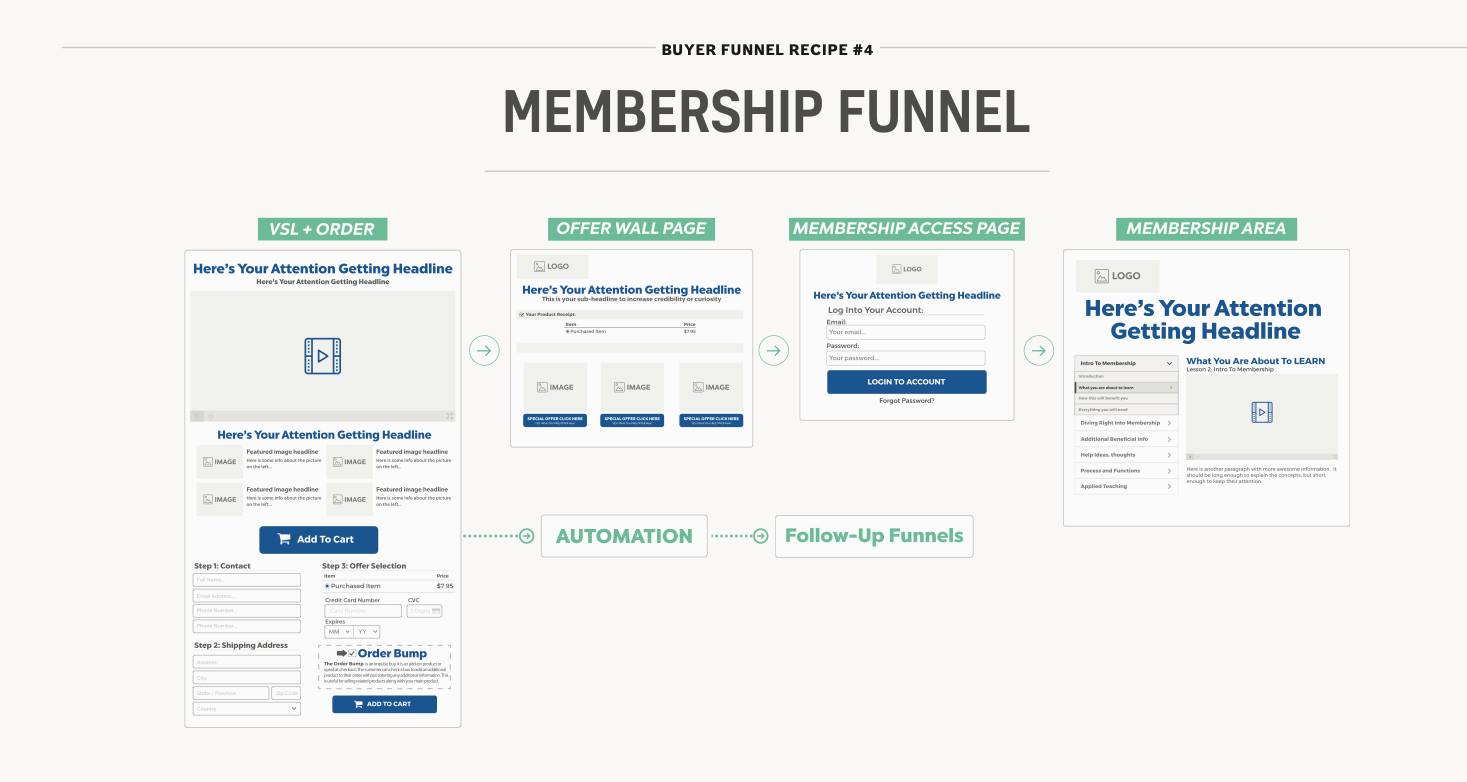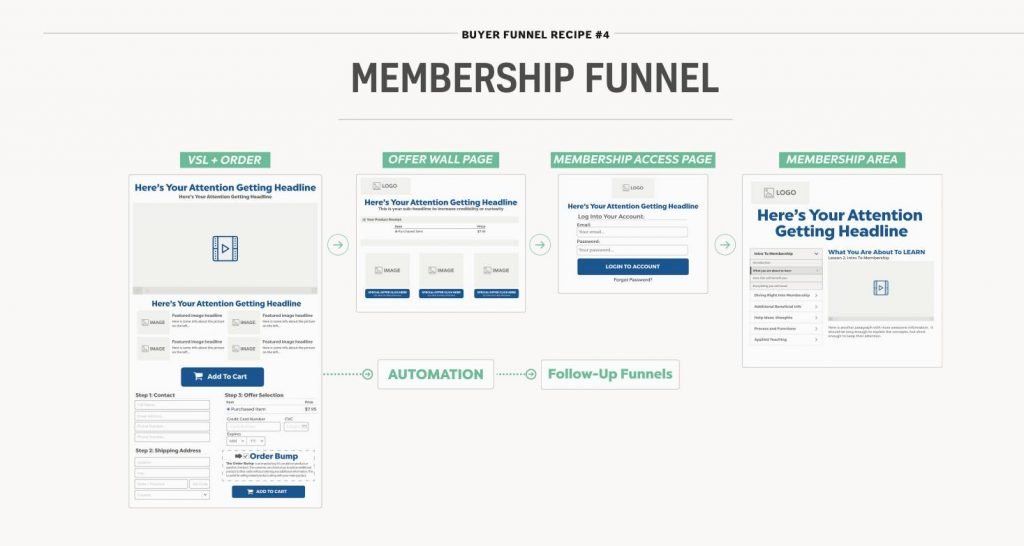 Membership Funnels were created to sell people into membership sites, paid newsletters and more. There are different ways you could sell a membership site (for example, with a webinar or a sales letter), but in this template we will be using a video sales letter.
On the first page, someone will typically signup for some type of trial. On the Thank You Page they get a link to create their account in the member's area. Users create their own unique username and password and content unlocks based on the user's specific purchases.
Survey
Find out who your visitors are first and then send them into the right funnel. A survey funnel has two main purposes. The first is to help your visitors engage with you more because they are required to answer questions and make micro commitments. The second is it allows you to figure out who your visitors are, and then you can show them a different sales message based on who they are.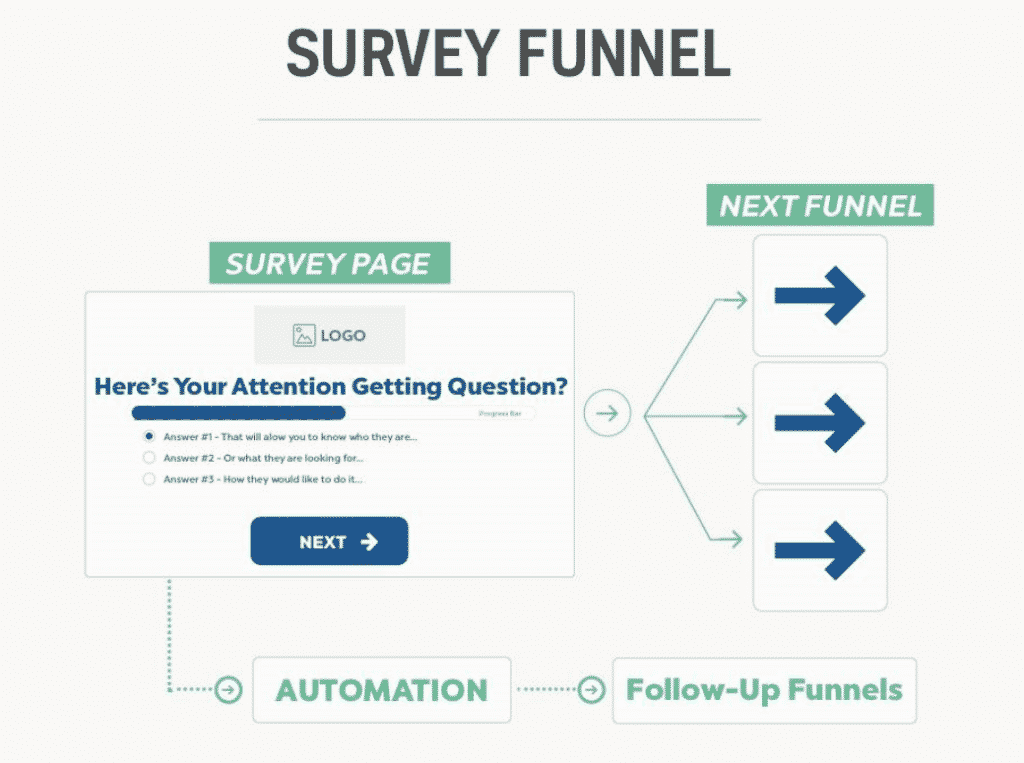 2-Step Tripwire
Use a low-ticket front-end product and then upsell them your other products.
A Tripwire is a low-ticket front-end product that is so irresistible people must purchase it. After they put in their credit card, you can then upsell them your more expensive products through Order Bumps and One Click Upsells or Downsells.
The 'Two-Step' gets its name from the Two-Step Order Form used on the first page of this funnel-type.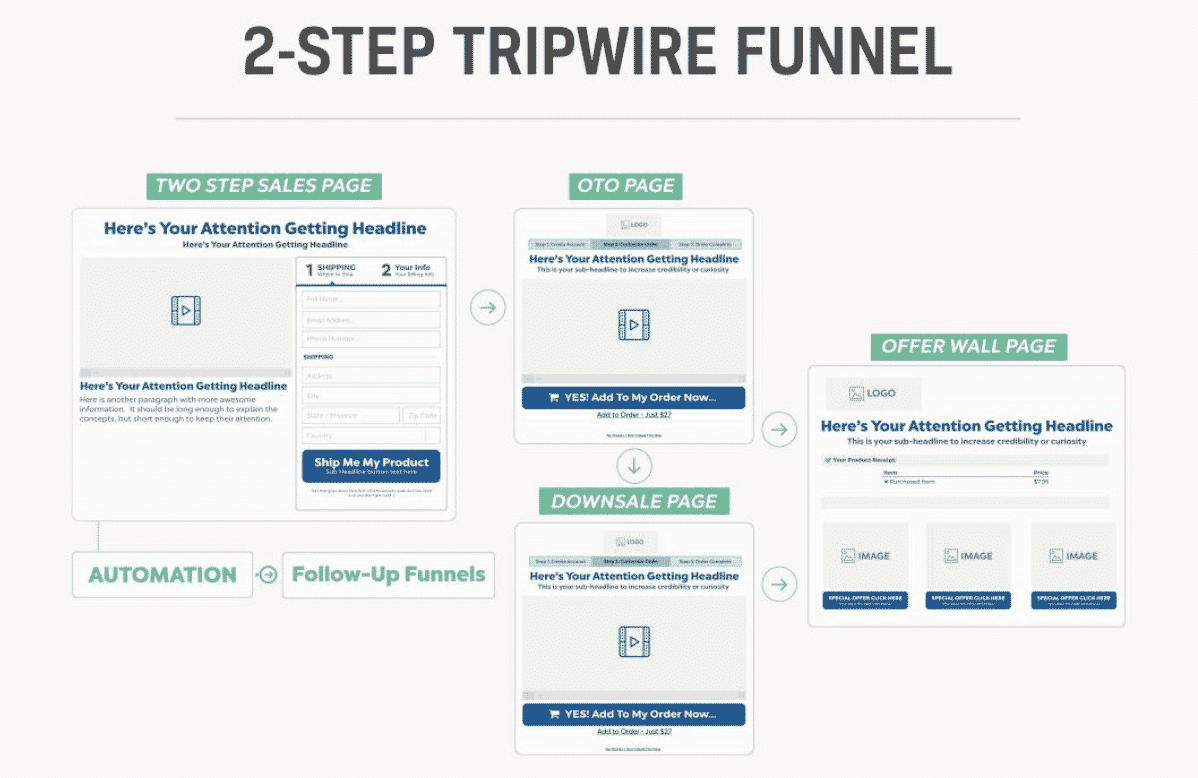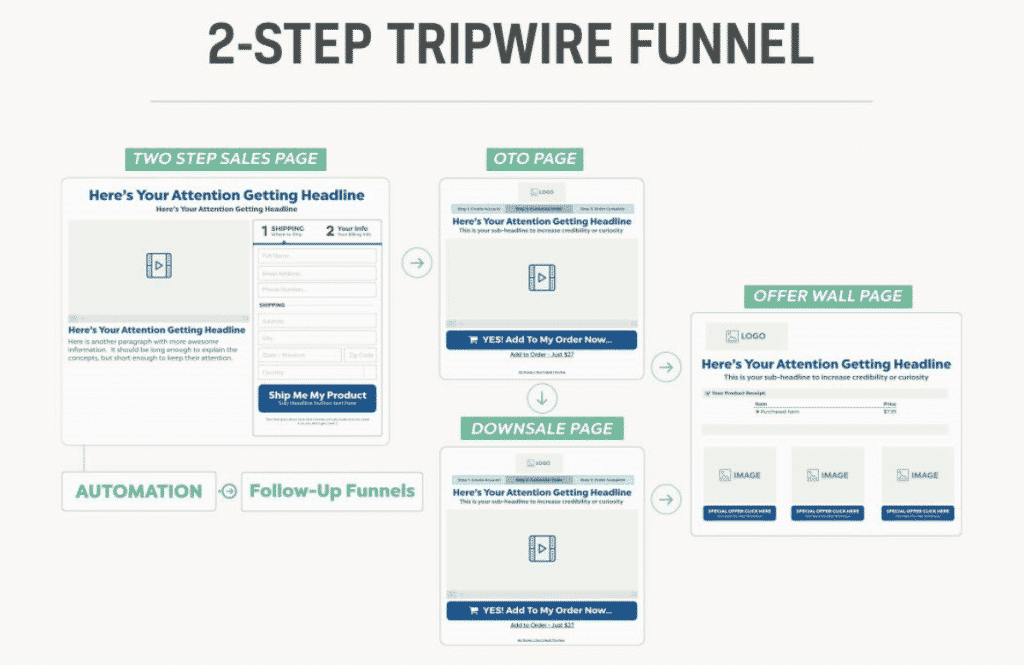 Live Demo
Demonstrate your product through your own live demo funnel.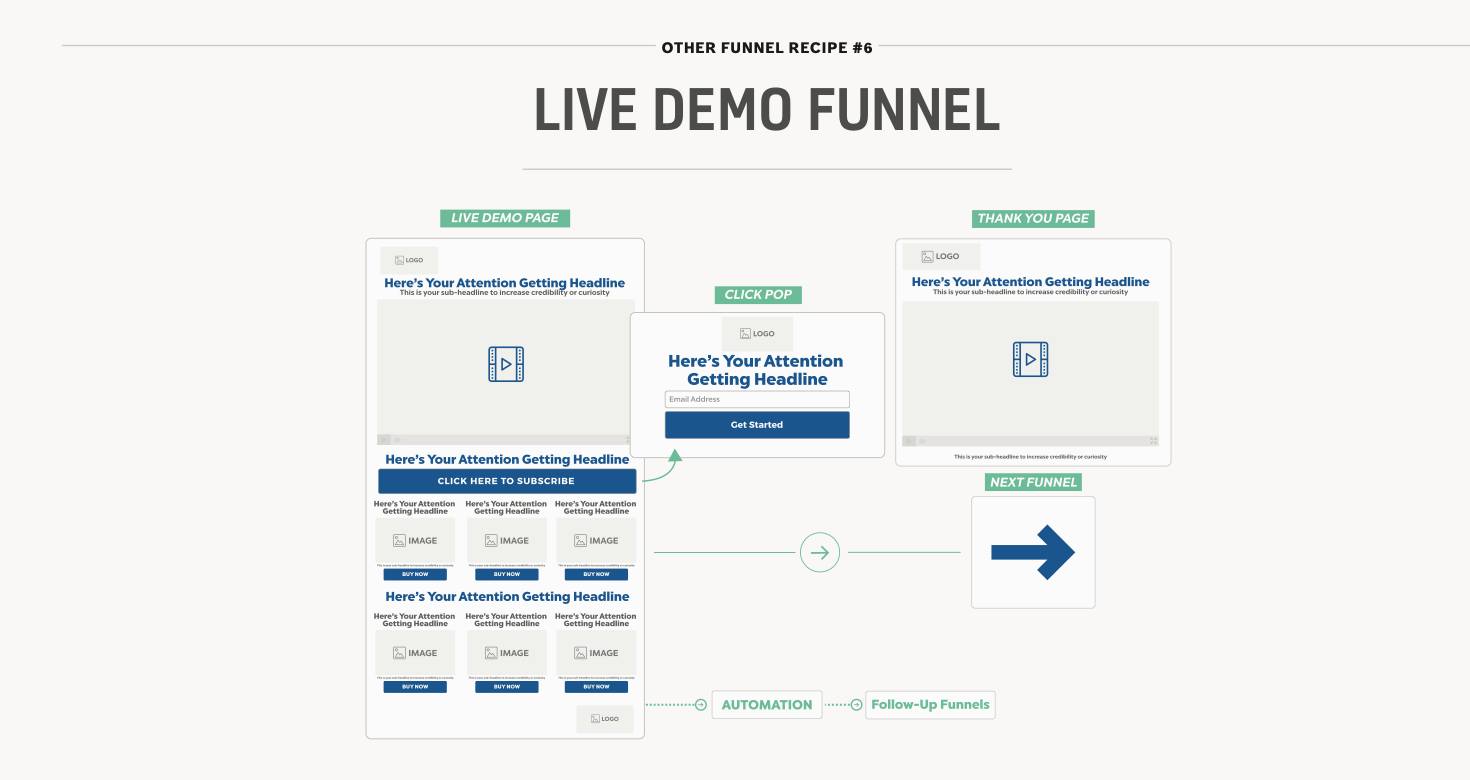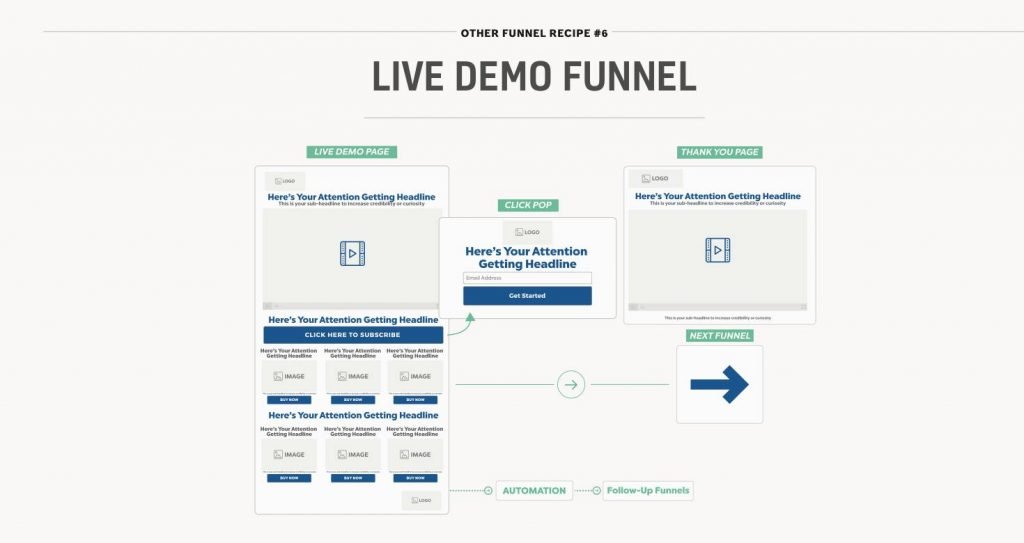 The Live Demo Funnel is a great way to show off your product by you simply using it in front of your customers. This gives the entrepreneur a way to answer live questions and demonstrate their product. Do this by hosting a periodic live show that others can also attend live. Remind viewers where they can get the product you're showing and keep additional episodes below.
Hero Funnel
Let people know who you are and how to connect with you. Use a Hero Funnel to showcase you as the entrepreneur, your story, and build a list of followers while you do so. This funnel starts by sharing some of your bio, getting people to join your email newsletter, and then asking them to follow you on your social media accounts.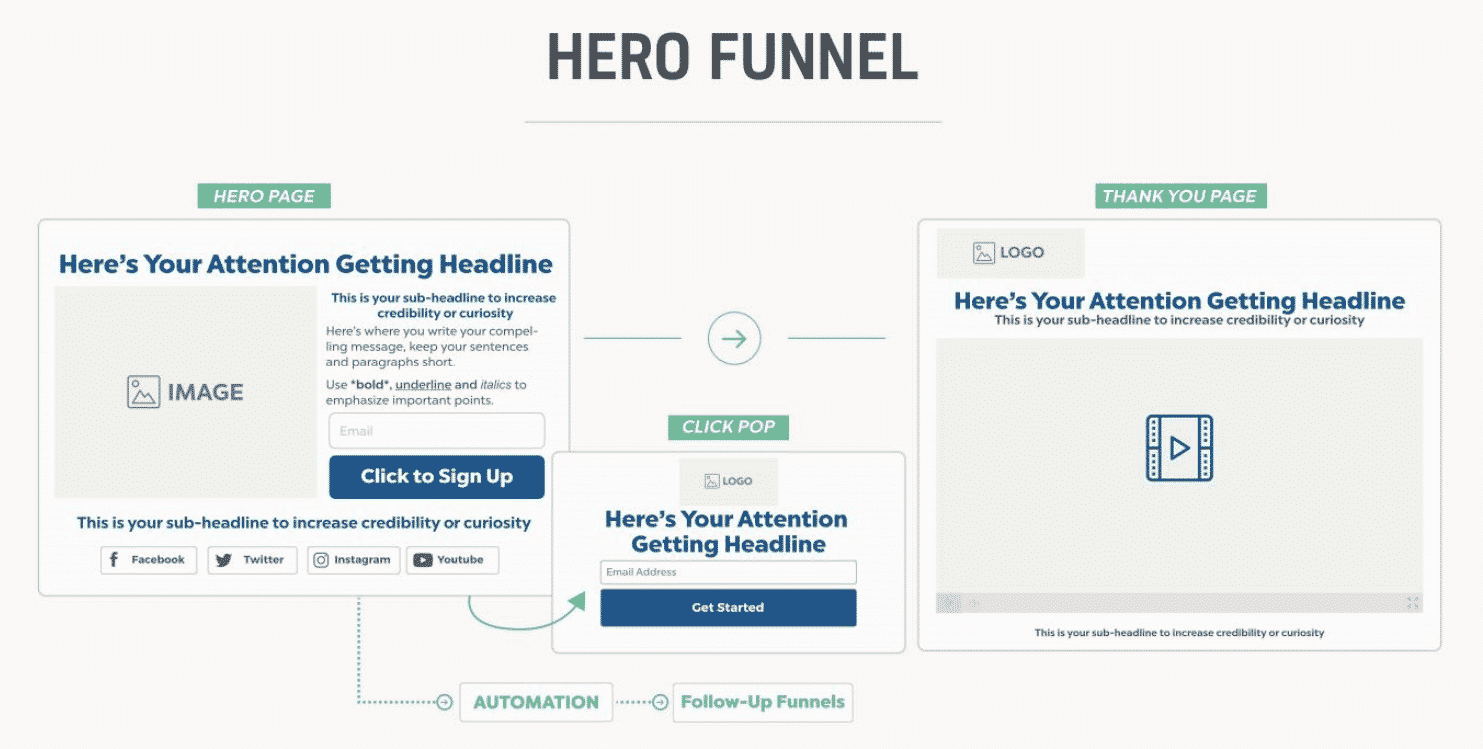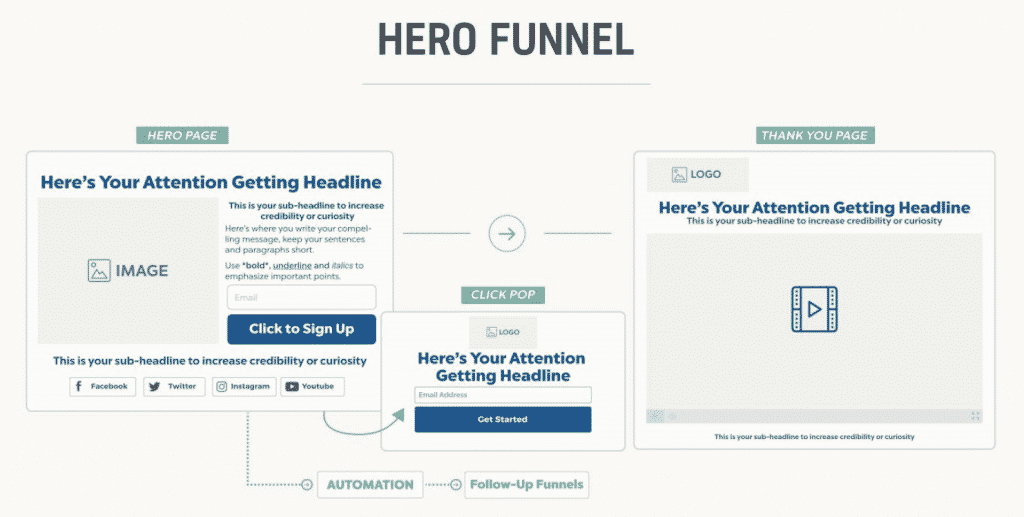 Homepage
A traditional "website" that pushes people into your core sales funnels.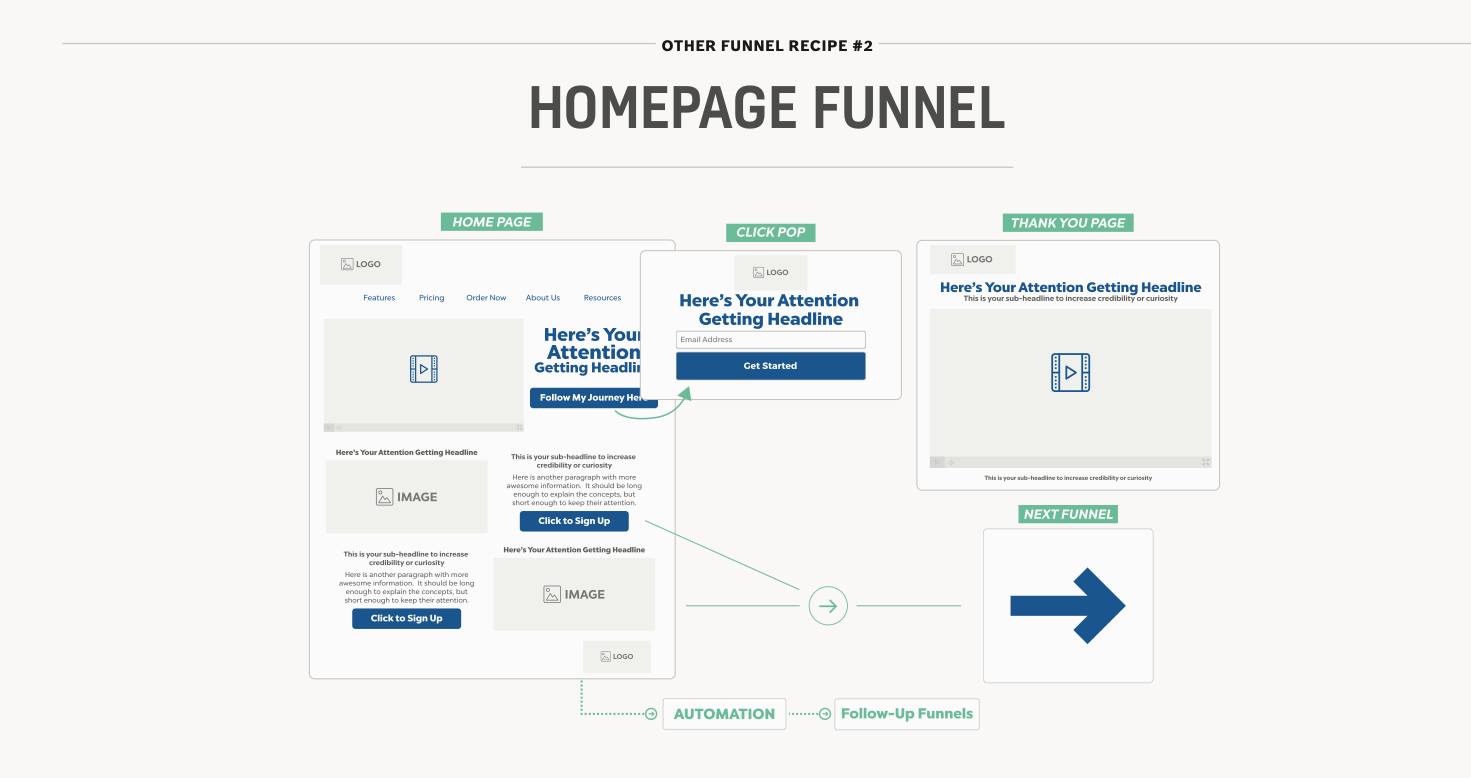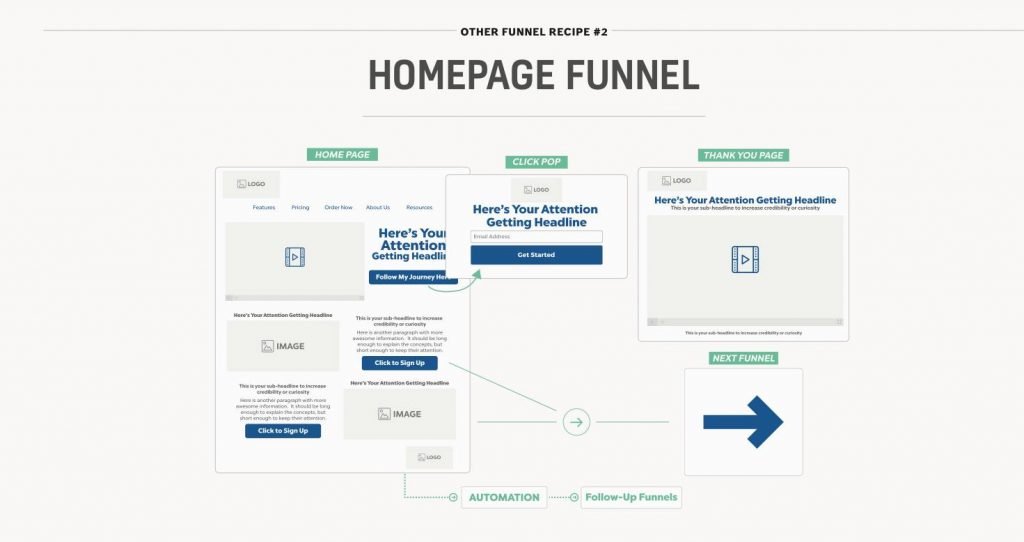 The Home Page Funnel lets the entrepreneur have elements of a traditional "home page" website but turn it into an actual lead funnel. The first page tells the story of the business and invites visitors to opt-in. They can also choose from the most popular products featured below. As opposed to the Hero Funnel, which highlights the entrepreneur, a home page funnel is good at featuring the business' origins with several popular products.
Ask Campaign
Find out what your customers want before you create it for them. Use an Ask Campaign funnel at all stages of your business to find out what customers actually want.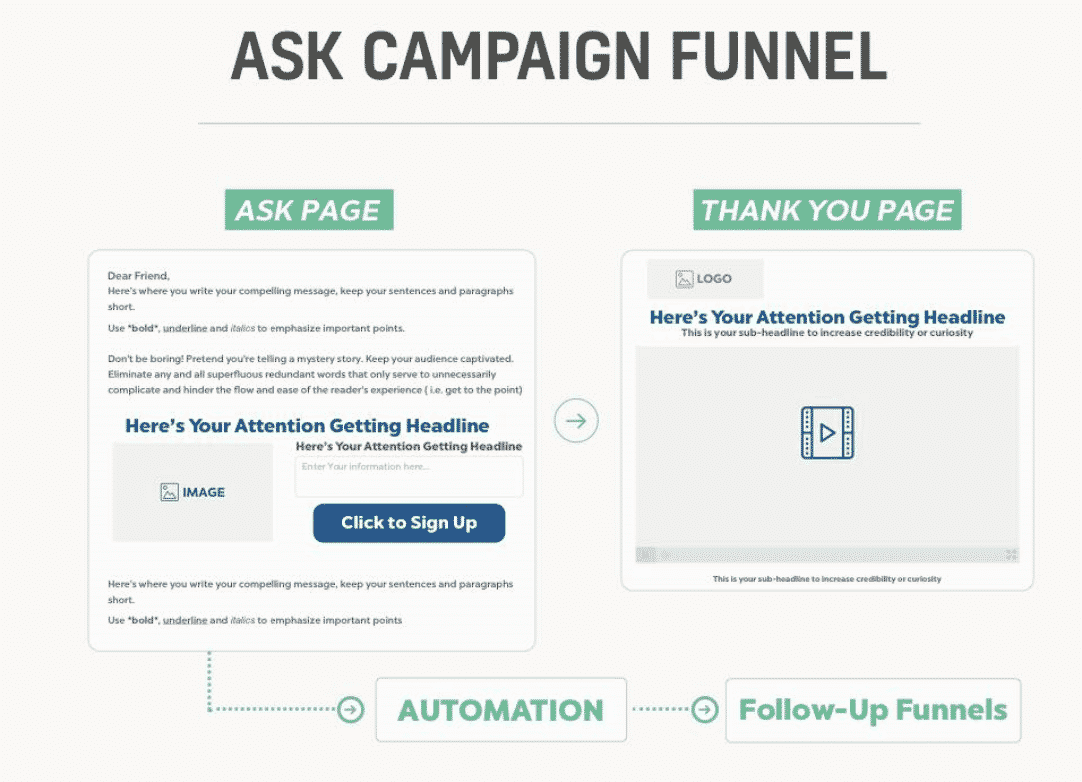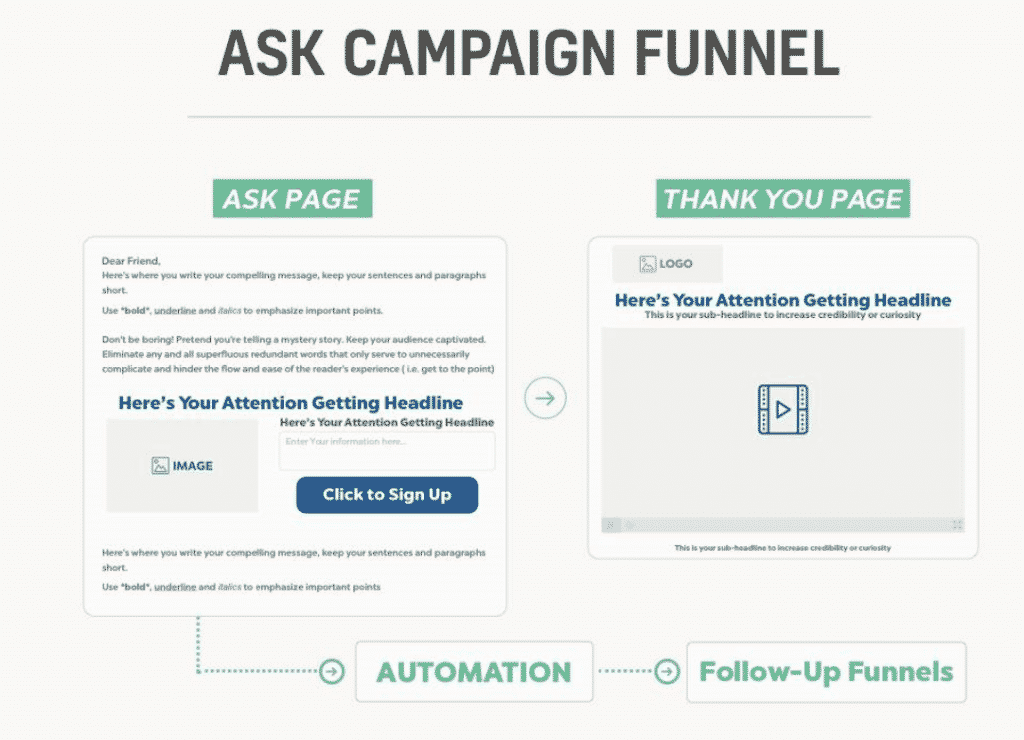 Typically, the open-ended question is phrased, "What's Your #1 Question/Challenge With XYZ?" Customer responses become the basis of your offers and helps you discover the false-beliefs potential customers will experience before they'll give you money. You can also offer the product as a gift if they respond to your campaign.
Auto Webinar or Evergreen
Create auto webinars that automatically sell your products around the clock.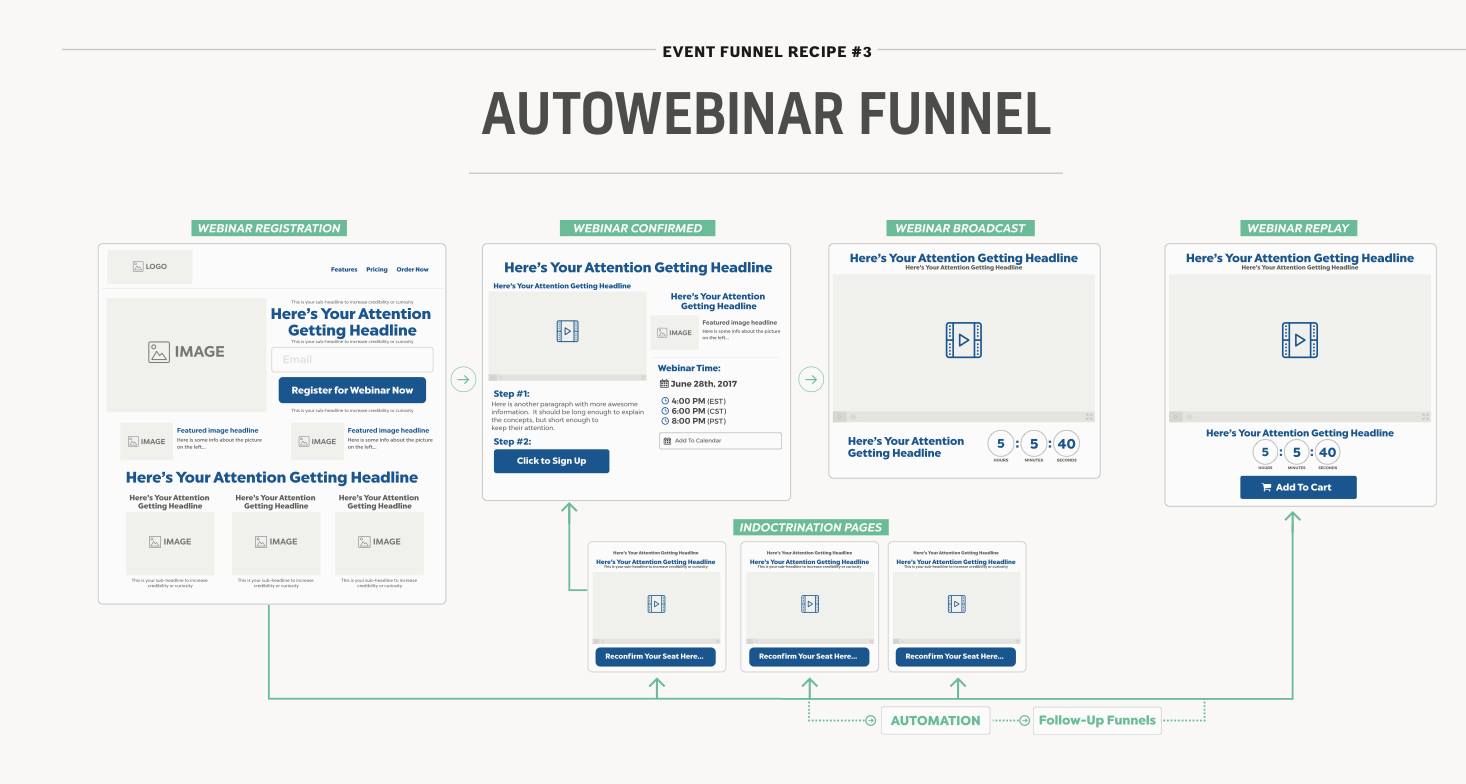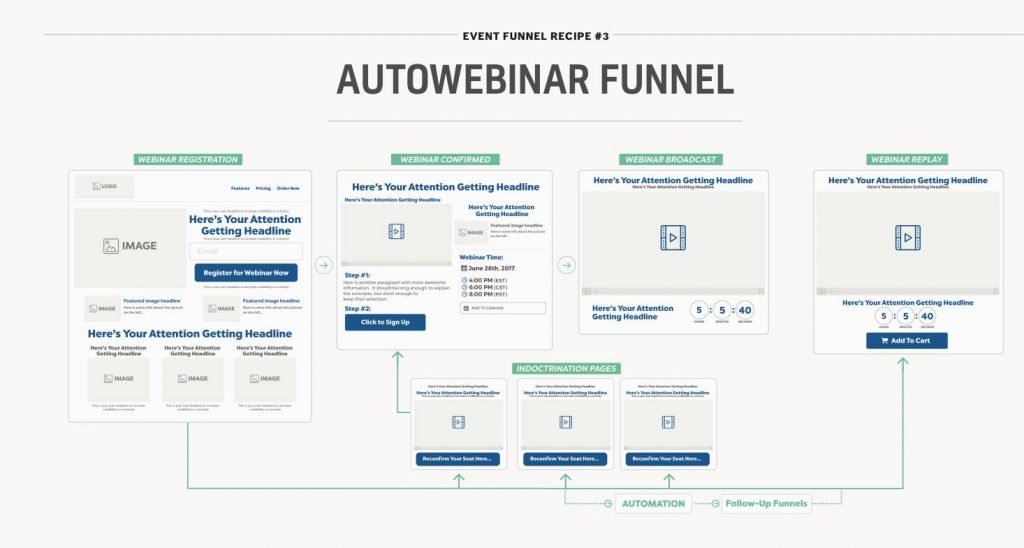 The Auto Webinar Funnel is used after an entrepreneur has proven their offer several times previously in the Webinar Funnel. The major difference in this funnel is that the historically best converting webinar is uploaded online (YouTube, Vimeo, etc) and is embedded in its own "Webinar Broadcast Page."
Per experience, I wouldn't recommend to build an evergreen webinar first. The first step is doing the webinar live a few times, and update it with the audience's responses. Then, when the conversion rate is good, turn the recording into an evergreen funnel.
Daily Deal Funnel
Make an irresistible offer to get new customers (Nickname: Groupon Funnel) Companies like Living Social and Groupon made the Daily Deal Funnel famous by getting companies to make an irresistible offer to get new clients into the front door.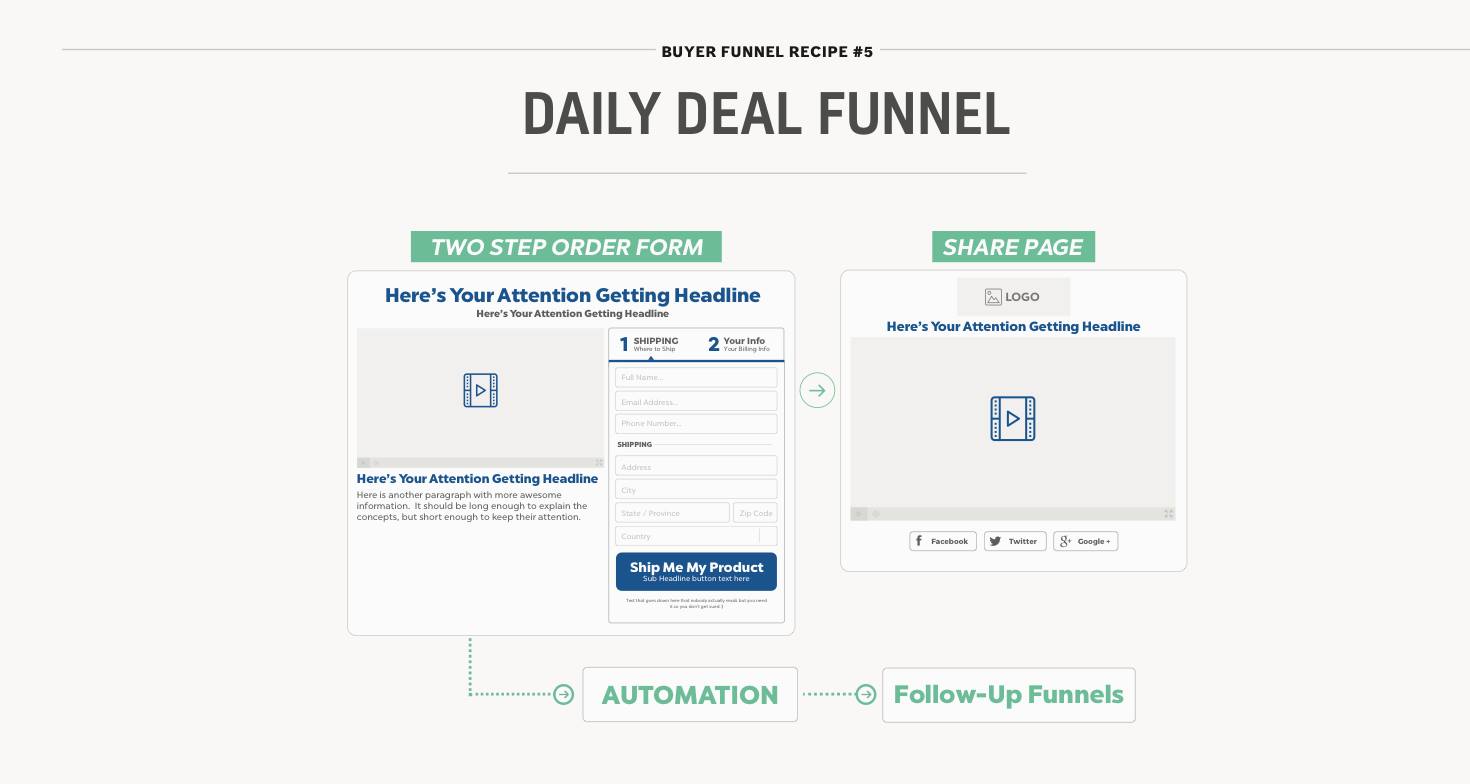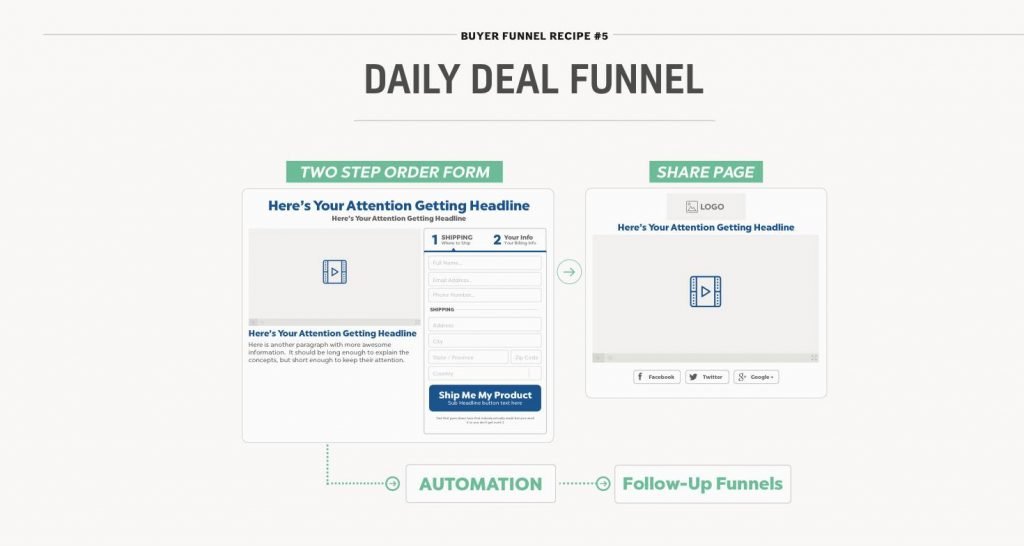 You can quickly create an offer and run it as an evergreen campaign to consistently get new people into your business. Begin with a Two-Step Order Page where you make the special offer, then on the Thank You Page, encourage your customers to share the same deal with their friends.
Storefront
A traditional eCommerce "website" that pushes people into your core funnels. The Storefront Funnel is like a small window shopping. It's a single page where all your products sit together with links to other individual funnels and products. It mimics a more traditional eCommerce website, but each product pushes into a funnel that efficiently sales that product.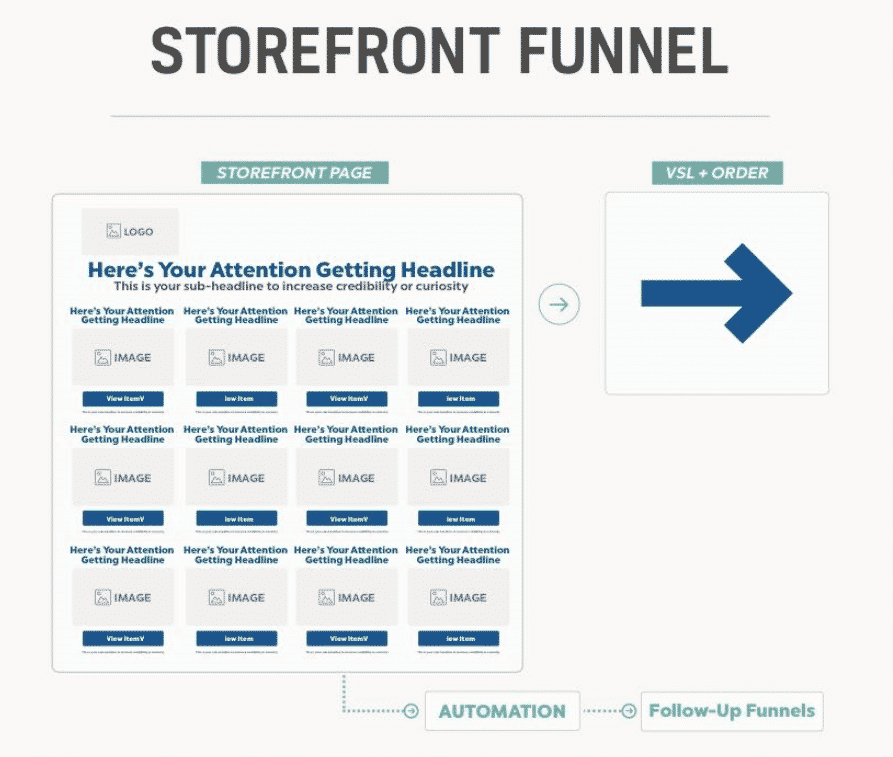 Some articles that you might want to read too:
As a sales funnel specialist, I will happily help you to take the right decision for your business, your products or services, and the goal you want to achieve. Book a free discovery call now!
Note: All funnel mappings of this article are from the Funnel Hacker Cookbook that you can download for free.
Want to come back? Pin it, bookmark it!