Finding good quality images, videos or fonts can be very expensive. It's also a necessity to when your business has an online presence. I gathered all the sites I found over the years. All you need to do, it's to click on the name on the list to open the site in a new tab!
IMPORTANT: Most of the sites listed offer their materials with the Creative Commons CC0 License or Commercial. However, it's your responsibility to verify how you can use the images, video or fonts.
Note: This article is updated regularly depending on my new findings; be sure to bookmark it / pin it and come back often. If you know of any sites that are not listed and would be a good fit for this page, please share the links by sending me a message here.
Free Images Only:
Visual hunt I love that we can find images by colours.
StockSnap: Hundreds of high-resolution images added weekly. Free from copyright restrictions.
Unsplash is a website dedicated to sharing stock photography under the Unsplash license. The website claims over 110,000 contributing photographers and generates more than 9 billion photo impressions per month on their growing library of over 810,000 photos.
Burst is a free stock photo platform that is powered by Shopify. The image library includes thousands of high-resolution, royalty-free images.
freestocks.org: Photos for both personal and commercial use. High-quality images for your website and blog free of charge. No attribution required.
Stock Free Images: The largest collection of high quality free stock photos. Thousands of images added daily!
Skitter Photo: download free photos. No payment, no login required. Do you take pictures?You can join and start uploading your public domain photos today.
Reshot: Find tons of handpicked, non-stocky images. Yours to use as you wish. Free for commercial use. No attribution required. If you share through Social Media, you can download pack.
Gratisography: Quirky, Creative, Always Free Photos. The world's quirkiest collection of free high-resolution pictures, comprised of the world's best, most creative images – photos you just won't find anywhere else.
New Old Stock is an original site for vintage images.
Daria The site hasn't been updated after 2017. The photos are original, it's nice to check it out.
Style Stock Feminine and beautifully styled images for projects.
Kaboom Pictures free stock photographies and shots including colour palettes choice.
Foodies Feed is a resource of awesome naturally looking food photos.
Magdeleine offers free high-quality photos of everyday life. The site has also a function to search by dominant colour; I love this feature
IIM Free A curated collection of free web design resources, all for commercial use.
Negative Space For personal or commercial use, all of our CC0 licensed images are completely free to use!
Free Video and Images:
Pexels: Probably the one I sue the most! Free stock photos you can use everywhere. ✓ Free for commercial use ✓ No attribution required.
Pixabay (they also offer vectors.)
NASA made recently their entire media library publicly accessible and copyright free!
MMT Over 88,000 photo downloads since launching in 2014.
Splitshire Great quality images and videos.
Free Video Footage:
life of vids Free HD photos, clips and looping footage added weekly
Videvo The site includes videos, music, motion graphics, and sound effects.
Videezy Online community of videographers sharing free HD clips (b-roll, backgrounds, and other cool video footage)
Movie Tool includes loop footage.
Clipstill offers 6 free cinemagraphs every month.
Distill Get 10 free HD videos delivered to your inbox every 10 days when you sign up.
Pond5 it includes geat B/W footages.
Motion Places Free stock footage from around the world.
Motion Elements sign up and you can download up to 5 elements for free per week.
Vimeo free stock it's limited and a bit dated but still good to have.
Mazwai Aggregator of best free footages in the public domain for immediate download.
Free Fonts:
Google Fonts It's the most common site to find fonts. They are gorgeous!
Font Squirrel is another well-known site for designers.
Abstract Fonts This site is a collective creation from designers and hasn't updated recently. Please ignore the "unsecured" from Google Chrome.)
Urban Fonts is a cool site with dingbats from the street!
Thank you for checking out this article. If you are looking for another type of free tools, sites, courses that can help you with your business, don't miss out:
– Free Tools for Design (Coming soon)
– Free or Low-cost Deals for business online
– Free courses with valuable content (Coming soon)
– Free Tools For Websites and WordPress (Coming soon)
Do you think your friends would receive value from this article? Please share it!
I also made it easy for you to pin it!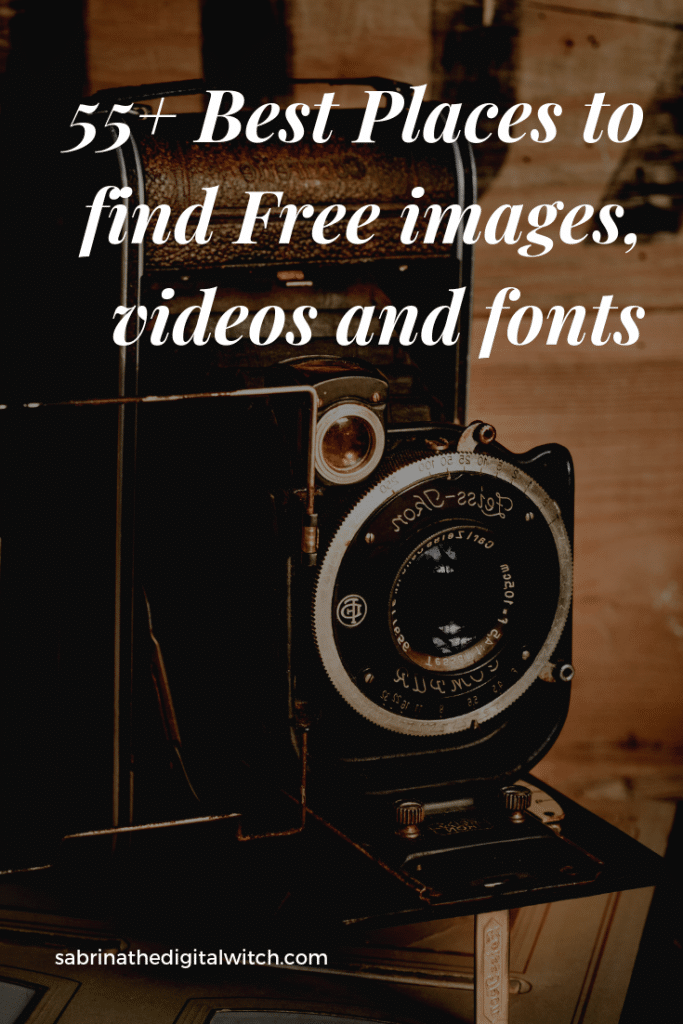 Disclosure: Some of the links above are affiliate links, meaning that I will earn a commission at no cost for you. Feel free to check my Disclaimer policy here