How does Digital Marketing different from Traditional Marketing?
Digital Marketing is defined by all marketing activities created online. Traditional Marketing is defined by all marketing activities like telemarketing, direct email, print media and broadcast media.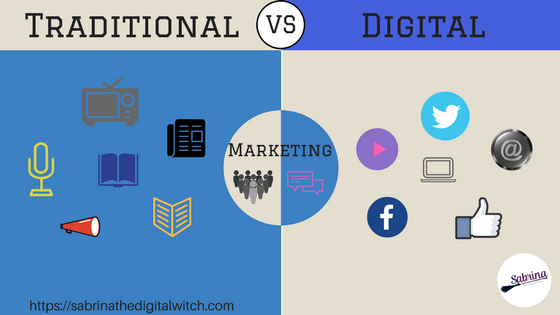 Unique characteristics of the web as a marketing medium.
The Internet has endless open possibilities for Marketers over the past 25+ years. The web allows people to do nearly everything online. They can shop online, work online, create relationships and engage via Social Media platforms, research all sort of information online.
The greatest of the internet is that everyone can have 24/7 access quickly to online information from nearly everywhere as long as they have an internet connection and a smart device like a computer, a laptop, a tablet or a smartphone.

Marketers and businesses can use the web to efficiently spray their messages across multiple platforms via various media like voice, multimedia, text, to engage and convert with either a targeted audience or broad audience accordingly to their strategies.
The advertising can be done efficiently via website, social media or blog at a low cost.  One dominant condition to attract, engage and convert audiences is to provide them with fresh, informative and entertaining content that satisfy their needs.

Search Engine Optimisation (SEO) will help find your content via the major search engines that are Google, Bing, and Yahoo. Driving traffic to your content is critical. It's a long run strategy that can be done by customising content that enables the algorithms of the search engine to find it.
Search Engine Marketing (SEM) is using the search engine in paid advertisings. Via a tool called Google Adwords, marketers will research which type of keywords /content people are looking for then bid on them in the aim of a high ranking on search engine result pages (SERP's).
The web provides data which can help marketers to define and target their audiences at a high-granular level. Usually, each platform has his analytic system like Facebook and Facebook insights or a website with Google Analytics.
In a nutshell, using the web as a marketing medium is like open the doors to new opportunities every second. There is access to the world population at low cost and the e-Tools capture, monitor and analyse everything which permits marketers to create several tactics that engage customers and build a business.
The differences between digital marketing and traditional marketing practice.
It exists multiple factors that differentiate Digital Marketing to traditional marketing:
The audience reach and segmentation.
Online advertising acts as an entertainment as well, mainly via Social media.
Digital Marketing engages immediately in a two-way conversation versus a one-way conversation in traditional marketing.
The cost of TV, radio, newspaper and magazine advertisings are expensive compared to the digital ads.
Social media influencers play an essential role in digital marketing.
ROI in digital marketing is higher than in traditional marketing.
In traditional marketing, the audience reach is local, regional or national. It doesn't allow marketers to control the reach of their advertising in a sense that they can't manage who is watching their ads on TV,  reading them on newspaper or flyers or listen to them on the radio. The audience is broad.
Digital marketing engages and creates meaningful connections with well-segmented audiences. The message is tailored-fit and instantly for the person with whom is interacting. The reach can be global.
Traditional marketing segments the audience on classic attributes like age, sex, location, salary among others. Alternatively, digital marketing is based primarily on interests, as well as on demographic characteristics that allow greater accuracy to reach the target audience.
With Data analytics, marketers can accurately track how well their marketing efforts are working – allowing them to make better decisions moving forward. Let's remember the key to effective marketing is knowing how to analyse the data and implement changes based on what your data tells you.
For traditional marketing, can we say for sure how many people saw an ad on TV, in the newspaper, or on a billboard? We can estimate by generalising how many people watched a show, bought a paper or, cars drove by the signboard, but then we have to consider the accuracy of our guess.
Do we know how many people were in front of the TV watching, in each car and how many of them saw the ads and paid attention? There is significant room for error. For digital marketers, measuring data is a different story because they access a long list of statistics ranging from a simple impression to something more complicated, like how much time someone spent on a web page, where they click, their location, etc.
Digital Marketing Strategies and their integration with traditional Marketing.
The different type of Digital Marketing strategies are:
Display advertising on a website.

The budget for Social Media Marketing, Paid Search, Display ads are usually between 10%-20% of the total commercial buy if an agency manages them for you. The whole ad buy will depend on your goals, the size of your target audience and the type of ad.
It'll also depend if you can or not automate the tasks.

The knowledge to apply digital marketing is gigantic and require high expertise in many fields. The list includes but non-exhaustive, building a website, managing all social media platforms, creating valuable content, writing email sequences, coding for SEO purpose, understanding search engine, reading, analysing and interpreting data, being able to use multiple e-tools, understanding integration.

All these activities can be time-consuming especially for real-time activities versus pre-scheduling post. Per example, a blog post of 500 words will require between 2 to 8H depending on your expertise included 30 to 60 min, just to write the title of the post.

Now the question is how can we integrate the benefits of the traditional marketing and the digital marketing. Marketing itself is the process of identifying and satisfying a consumer's needs and wants at a profit.

The offline marketing will send visitors to the website via a call to action which can be a special offer, exciting information, etc. Then a specific landing page on the website will have the information that the user looked for with another call to action.
Social Media Marketing will create an amplification of the offline message and also bring visitors to the website.  If you need to create your Social Media Marketing Strategy, check this post here to help you.
Analysis, Development, Implementation and Control of Digital Marketing Campaigns
Digital Marketing campaigns is a perpetual circle of stages: Analysis, Development, Implementation and Control
The analysis stage:
It's the foundation of a Digital Marketing Strategy, tactics and campaigns. Without this phase, we are more likely to fail!
We need to know the Business, the audience(s), the competitors, the goals and most importantly: what are we going to do and why are we doing it?
Simon Sinek, in the Golden Circle, explained that knowing your "WHY" can revolutionise a Marketing Strategy. It brings clarity, the focused purpose and efficiency, the focused effort.
A Business should have goals with defined timeline and budget. A SWOT analysis will help to define the company's skills and knowledge. The competitor analysis helps to position our business in the market.Search, social media analysis, business's goals, competitor's audiences,define the Buyer Persona.
A business should start to define the buyer persona from actual and previous customers then refine on finding out where they are, mainly on Social Media.
The
planning stage
that will decide:
Type of content to create and how to communicate it.
KPI's in function of the goals chosen.
Clear Value Proposition for the business and how it relates to the users.
Branding, message to convey, satisfy and convert the target audience.  
The
implementation phase
.
Different tasks start such as the website launch, open the social media business pages & profiles, start email campaigns, schedule posts for social media and blog content release. All these tasks should follow a clear Marketing calendar which is based on goals and KPI's.

The Control phase:
It uses Analytics tools such as Google Analytics, Facebook & Twitter insights to verify the results of our strategy and help to correct in case we are not meeting with our goals and KPI's.
Conclusion
Whatever the type of business we run, we can use either digital marketing or traditional marketing or both. The two main factors to choose what to do are:
The audience
The business's goals.
Are you still confused about how to define your strategy? Feel free to book a free call with me here
Did you like this post? Feel free to pin it: