What if there were a tool to enable you to capture leads on your website and turn them into subscribers without coding and ready in less than twenty minutes? This widget tools is your answer!
And, what if I tell you that this tool is running on auto-pilot on your website sending your leads to your client management system?
Last, you don't need to be a developer, nor a designer or a marketer to use it! No kidding, watch out.
Watch it in action!
Convertful is a website tool used to capture yours leads using beautiful widgets and behaviour-based opt-in forms, without annoying them!
How to set up and install Convertful on your website?
Create your account by entering your email address. You will need to verify your email address. Then you need to fill your website link and you ready to start!
Connect with WordPress website
Go to your WordPress website to install Convertful plugin.
When you click the "Connect to Convertful" button it will open a window logging you into your WordPress site for authentication.
That's it! In both instances, you have now completed the step to installing Convertful to your website.
Each time you want to integrate a new Convertful widget on your website, depending on the type of the widget, you will have two options:
Embed a shortcode
Let Convertful display your widget for you using the widget settings
Choose and create your widget
Based on previous successful campaigns, Convertful has 100+ templates to choose from. You will find 6 different widget's type, depending on where you want to place it on your website and what you are looking to achieve.


Pop-Ups
They are little boxes that will pop-up on your website pages following a specific action that a visitor will do. Per example, when a visitor tries to exit a page.
Scroll Boxes
Scroll box, as his name says it, will follow the visitor when he scrolls down a page on your website.
You can create different types of scroll box depending on your visitor's behaviours or your goals like segmentation or list building.
Floating Bars/buttons
The floating bar and floating button are an excellent way to convert visitors to subscribers and customers without annoying them.
Full-Screen Welcome Mats
If you visite my website previously, you should have seen my full-screen mat when you left.
I really like this widget type. It's clean, not invasive and converts extremely well!
Embedded Inline Widgets
If you are a blogger or publish a lot of articles for your business, you will love this widget type.
It will help you to gain subscribers or convert visitors into a customer in no time!
So, we defined which type of widgets Convertful is offering. Let see how we can use all of them to meet your business goals and your visitor's behaviours.
Different type of widget by visitors behaviours
Convertful offers some very cool features for widgets. You design them or use the pre-made templates depending on what your visitors are doing.
All the following examples should help you as use-cases to apply in your business.
Yes/No Exit Intent
Recover ~1.8% of leaving visitors into Email Subscribers by gently offering something free or at very low cost right before your visitors leave.
Segmentation Surveys
This tactic increases Sales Conversion Rate, Customer Lifetime Value and Email Subscribers by segmenting 5.8% of your visitors and immediately making them a personal highly relevant offer.
Gamification – Scratch Card
My favourite widget on the earth!
These widgets increase Email Subscribers, Sales Conversion Rate and Percentage or Returning Customers, by providing the unique gamification experience, which your visitors will remember for a long time!
Personalised Return
I believe that it's a good user experience when a website can call someone by his name. Personnalisation is playing a huge role in loyalty.
The Customer Lifetime Value will expand by welcoming the returning visitors and customers with a special offer.
Follow-up coupon
This type of widget will help you to win back missing sales and increase overall sales.
Welcome Discounts
Get a bigger Sales Conversion Rate and Email Subscribers by offering a welcome discount in exchange for an email subscription to first-time visitors.
Welcome Giveaway Contests
Increase Website Traffic and Email Subscribers by offering a chance to win a valuable giveaway for sharing your store URL.
Cart Abandonment
Reduce Shopping Cart Abandonment Rate and increase Sales Conversion Rate by offering a discount when a visitor leaves your cart or checkout pages, that generally recovers 21% of leaving buyers.
Simple Subscription
These popups are used when you want people to sign-up to your newsletter or to your list for marketing purpose.
Deadline Bars
The Sales Conversion Rate grows by creating urgency for the whole shopping experience.
Ultimate Content Upgrade
Get ~10% more Email Subscribers by offering ALL of the lead magnets at once instead of a single one.
Lock your content
Convert up to 17.6% of your visitors into Email Subscribers by requiring your visitors to opt-in in order to view the page content.
Quiz Funnels
Increase Sales Conversion Rate, Customer Lifetime Value, and Generate Leads by offering a personalized answer, solution, or case study for taking a short survey.
You can tag your visitors based on their answers to build personal communication in the future. Best suited for businesses that have multiple customer avatars.
By combining multiple widgets, you can create a funnel which is very similar to the technique used by chatbots.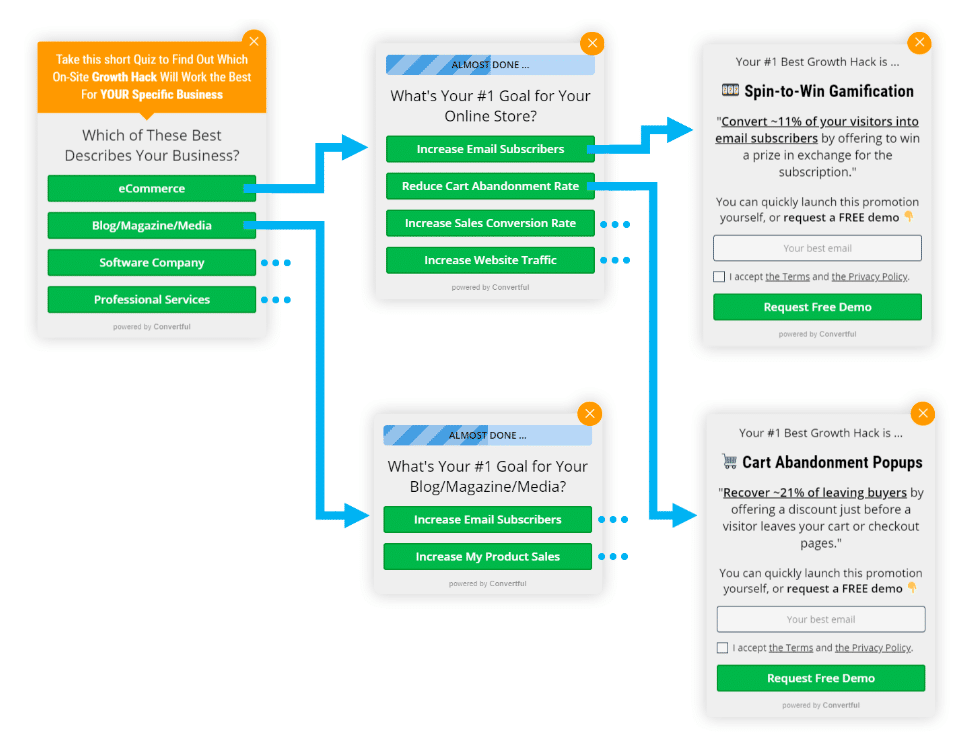 You can learn more about funnel types and check if it's a good fit you.
Welcome Video Pop-ups
Retarget up to 7.1% of new visitors to the sign-up page and increase sign-ups by the welcome popup that shows your Hero Video and offers a quick yes/no choice. Best suited for Software companies, but also works for businesses that have a good Hero Video.
Integrations
After you have collected information from your website visitors, you will want to transfer them into your business systems. Nothing is much easier than Convertful even if you are not really a tech person.
CMS (Content Management System) & eCommerce platforms
Convertful will easily connect with most of all the platforms that publish content online from blogs to shops.

CRM ( Customer relationship management)
Convertful built extremely powerful integration with the main CRM system in the market. You will be able to transfer your visitor's information name and email but also your tags, move name between lists, and so much more!






Integrations with other tools
The widgets will also integrate natively with other tools. If your tool is not on the list, Convertful has 1500+ Zapier integrations. It's nearly impossible that you cannot find the system you want!


Conclusion
Convertful is something that anyone who has a presence online must have! It integrates seamlessly with any systems.
It will help you build your lists and increase your conversion rate. You will be able to create accurate segmentation so that you can offer targeted products and services, and make more sales.
Try out Convertful for free today.
Do you still unsure if you can do it yourself or not? Feel free to book a quick call with me. I can definitely help you to set up your Convertful account, choose which widget is best for you and then implement your systems. I also offer training if you prefer to learn the tool. Book here
I made it easy for you to pin it!
Information source: Convertful