Everything that happens to us happens on purpose. And sometimes, one thing leads to another. Instead of locking yourself up in your cage of fears and crying over past heartaches, embarrassment and failures, treat them as your teachers and they will become your tools in both self-improvement and success.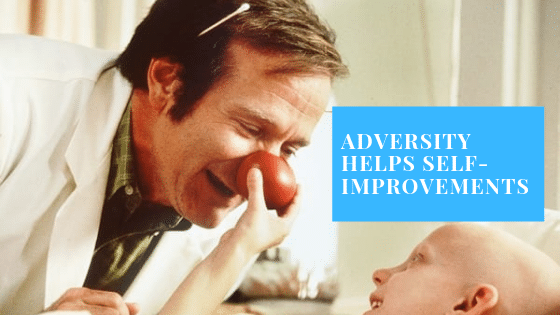 Remember watching Patch Adams?
I watched it first because Robin Williams was one of my favourite actors. It's one great film that will help you improve yourself. Hunter "Patch" Adams was a medical student who failed to make it through the board exams. After months of suffering in melancholy, depression and suicidal attempts – he decided to seek medical attention and voluntarily admitted himself in a psychiatric ward. His months of stay in the hospital led him to meet different kinds of sick people.
Patch met a catatonic, a mentally retarded, a person with schizophrenia, and so on. Patch found ways of treating his ailment and finally realised he had to get back on track. He woke up one morning realising that after all the failures and pains he has gone through, he still wanted to become a doctor. Adam carried with himself a positive attitude that brought him self-improvement and success. He didn't only improve himself, but also the life of the people around him and the quality of life. Did he succeed? He became the best damn doctor his country has ever known.
When does self-improvement become synonymous with success? Where do we start?
Stop thinking and feeling as if you're a failure because you're not. How can others accept you if YOU can't accept YOU?
When you see hunks and models on TV, think more on self-improvement, not self-pitying. Self-acceptance is not just about having nice slender legs, or great abs. Concentrate on inner beauty.
When people feel so down and low about themselves, help them move up. Don't go down with them. They'll pull you down further, and both of you will end up feeling inferior.
The world is a large room for lessons, not mistakes. Don't feel stupid and doomed forever just because you failed on a science quiz. There's always a next time. Make rooms for self-improvement.
Take things one at a time. You don't expect black sheep to be goody-two-shoes in just a snap of a finger. Self-improvement is one day at a time process.
Self-improvement results in inner stability, personality development and SUCCESS. It comes from self-confidence, self-appreciation and self-esteem.
Little things mean BIG to other people. Sometimes, we don't realise that the little things that we do like a pat on the back, saying "hi" or "hello", greeting someone "good day" or telling Mr Smith something like "hey, I love your tie!" are simple things that mean so much to other people. When we're appreciative about beautiful things around us and other people, we also become attractive to them.
When you're willing to accept change and go through the process of self-improvement, it doesn't mean that everyone else is. The world is a place where people of different values and attitude hang out.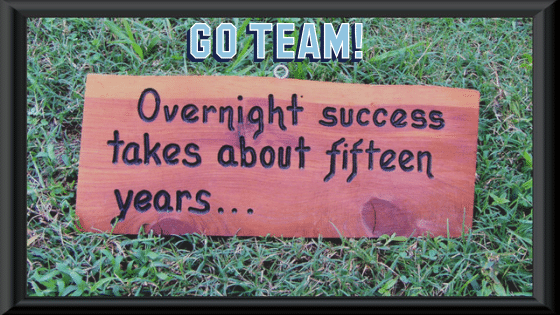 What to remember?
Sometimes, even if you think you and your best friend always like to do the same thing together at the same time, she would most likely decline an invitation for self-improvement.
We should always remember that there's no such thing as an 'overnight success'. It's ever a wonderful feeling to hold on to the things that you already have now.
A very nice quote says that,
"When the student is ready, the teacher will appear."

― Tao Te Ching
We are all here to learn our lessons. Our parents, school teachers, friends, colleagues, officemates, neighbours are our teachers. When we open our doors for self-improvement, we increase our chances to head to the road of success.
One of the best ways to self-improve is to accomplish your goals. This can lead to pride, to self-respect and a better sense of responsibility.
There are a few tips to help you:
Recognise your path
When it comes to reaching your goals and improving your life, you need to be the leader. You are in control of what you want, and your goals should come down to you and you alone. Just because your Dad wants you to be a lawyer and your Mom wants you to have five children does not mean this is what you have to do- it's your life, and thus, you are the boss.
Disassociate yourself from negativity
Positive thoughts lead to positive results; negative thoughts lead to negative outcomes. Negativity may be all around you- bitchy co-workers; unhappy neighbours; a depressing partner. Disassociate yourself from those types of people. You are in a happy, positive place- no negativity allowed.
Goals are what make life worth living. Think long and hard about what you want to accomplish and how you are going to get there. Make steps, including financial costs and put in as much detail as possible- the more defined your goals are, the more comfortable they will be to achieve (and the more rewarding when you get there).
Use visual reminders as boosters
Being able to clearly see your goal can help motivate you and keep you focused on your game plan. Many people will post a picture of their' dream body' on the fridge when they are trying to lose weight. Others will use their 'dream car' as their computer screen saver at work when those tough days get them down. A visual reminder can boost your motivation and drive to succeed.
See yourself at the end- as mentioned above, visualisation is vital to reach your goal and improve yourself. Therefore, it's important to visualise yourself there. See yourself fitting into that size 10. Feel the breeze on your cheeks as you drive that sports car. Seeing is believing.
Push jealously aside
When you watch someone on a parallel path reaching their goals a lot sooner, it can be hard to sit back and be happy for them. But this is what you will have to do. Getting rid of this envy and resentment is a big hurdle in improving yourself. But, once you overcome these feelings, you are a lot closer to reaching a state of Zen-like success.
Use timelines
Tracking your success can help you put your goal into perspective and see how far you've already come. It's essential for self-improvement that you recognise your feats and be proud of what you have done, or are planning to do.
Reward yourself on the way
Be happy with your progress. Whether your goal will take you twenty days or twenty years doesn't matter- the important thing is that you are doing it. You are getting there. To keep yourself motivated every step of the way, you need to reward yourself with small treats. Be proud of how far you have come and prepared for the journey ahead.
Look for role models
Look to those who are on the same path as you for inspiration. Perhaps this is the CEO of the company; maybe this is your father. Try to immerse yourself in their life and ask questions. Their positive energy may rub off on you. And, if not, at least you are learning from the experts how to get where you want to go.
Make room for failure
It can't be a smooth road all the time- there has to be plenty of bumps along the way. It is these bumps that make the path worth travelling. Failure is a big part of our lives, and we need to learn to live, love and laugh at failure rather than give in to it. Henry Ford once said that every failed attempt is just another opportunity to begin again, this time more intelligently. Failure is experience and experience is power.
So, now I hope all will help you with your self-improvement and reach your success. But, what if I tell you that I have one more simple things that can help you? Yes, something that will definitively change everything?
Kelly McCausey is the owner of Love People + Make Money. She is a blogger, podcaster, designer and much more. Every year, she helps people just like you and me to reach our goals, improve ourself one step at the time.
I dare you to join in the Stretch Yourself Challenge today! You will have the choice to pick one challenge or more to move your business forward. I promise that you won't be left asides, there are 15 challenges on offer!
With a little work, in 30 days, you will feel a different person! Just click the picture below right now!
The challenge is with FB live every year in September. You can do it in your own space for the rest of the year. If you need someone to support you, let me know and book a free call here.
Do you think your friends would receive value from this article? Please share it! I also made it easy for you to pin it!