The Magic of Goal Setting And the Free Workbook to help you reach your goals.
Goal setting is tough. Building your success either in life or in business is like casting a complicated spell. If you take the time to plan properly, you'll create magical mega results. However, if you dive into it without plans for goals in place, the end product may turn into more of a curse!
A goal without a plan is just a wish

-Antoine de Saint-Exupéry
I'll show you why it is imperative to prioritize, strategize, and analyze a set of goals in order to achieve bewitching objectives. After you've scoured the tips below, you can grab the awesome Goals Planner Worksheet I've created to help you make a spellbinding action plan for the next 12 months!
Goal Setting isn't the Same as Setting Goals
When I talk about "goal setting," I am talking about an entire strategy. It isn't as simple as merely setting goals; there's more to it than solely deciding where you want to end up. Successful entrepreneurs know that the proper goal planning is what gets results.
The Balance has an entrancing article here that goes more in depth on the definition of goal setting. Essentially, it is a three-step process: deciding your objectives, formulating your plan to achieve those objectives, and then putting in the hours at the cauldron, mixing it all together and poof! Watch your business propel forward.
Most people overlook the essential part – they neglect the planning segment of goal setting. Knowing that I am passionate about motivating my fellow solopreneurs to get results, I'm ready to help you plan it all!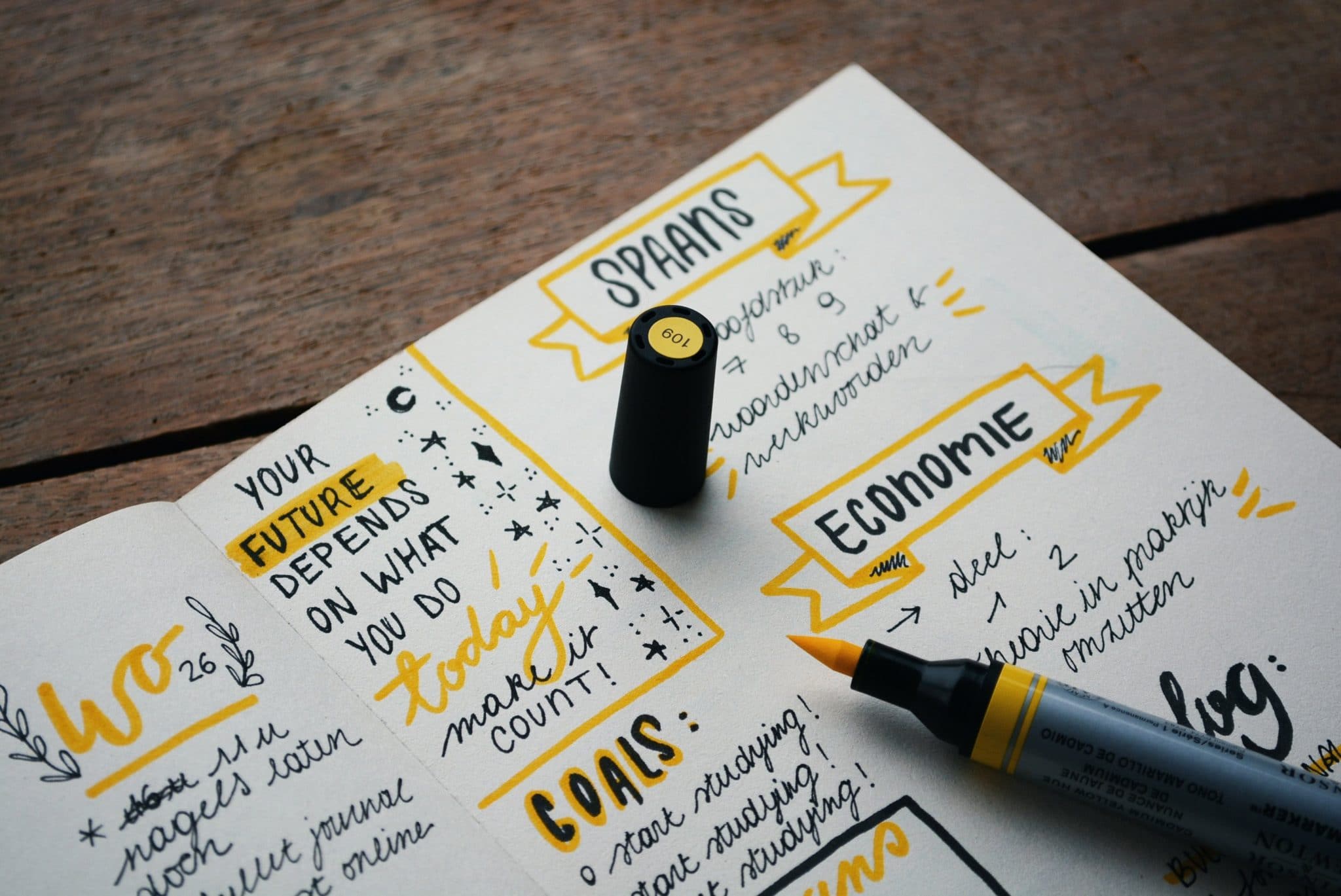 Method to set goals
Now that you know the three steps to successful goal setting, I'll share with you some magical tips from Mind Tools.
When you are brainstorming which goals you would like to attain, remember to keep it SMART. Strategizing your aspirations in this specific way will make a big difference in how successful you are.
SMART goals are: Specific, Measurable, Achievable, Relevant, and Timely.
Banish the general, inapplicable, insignificant goals from your life.
Specific: it's important to be concise and straightforward. A vague goal will produce an obscure result.
Measurable: you want to be able to assess your progress. You want to gauge easily what you have and haven't accomplished so far. Plus, you want to be able to celebrate when you hit your mark!
Achievable: this one is crucial. If your goal is unrealistic, you'll become discouraged when you inevitably don't reach it. On the other hand, you need to challenge yourself.
Relevant: you'd think this would be obvious. Set goals that pertain to your journey. If you're waving your wand at inconsequential extras, you're wasting time and resources.
Timely: make sure you give yourself deadlines for each step of your journey.
For example, you decide that you want to lure in more clients. That's great! It's very vague. How will you go about it? What will you use to measure your success? What time period do you want to give yourself to create this magic?
Using the SMART method, hone your goal. Be specific about how many new clients you're willing to take on, you'll likely measure it by the number of clients you acquire, set a realistic number and a way to achieve it, establish why this is relevant to your business, and set a time limit for yourself.
"I will obtain 3 more clients by attending networking events; asking clients, friends, family, and acquaintances for referrals; and launching a marketing campaign online. This will increase my revenue and grow my business, and I will accomplish this within the next quarter."
More Practical Methods:
If the SMART method isn't your favourite brew, there are other ways to approach goal setting to ensure efficiency and effectiveness! These may not be as common as the SMART method, but it all depends on your personal preference.
The Full-Time Equivalent (FTE) method
It can be useful if you have several employees, but it is a slightly older approach. The Market Potential Method is forward-thinking; it requires you to pay attention to what is going on in your realm. You must be privy to the ins and outs of your marketplace. Business Insider has a helpful article that goes more in-depth on these methods and the steps to creating a killer marketing plan.
The ACES Method
Are you a fan of acronyms? Maybe the ACES method will become your new favourite potion ingredient. Not only does it help you set goals, but also helps you formulate what you'd like to avoid or vanquish: Achieve, Conserve, Eliminate, and Steer clear. You can check out more on this method and the difference between goals and objectives here.
Want to go deeper into your Goals and habits for your Business? Convertkit released a full issue to help online Businesses reach their Success. I would encourage you to have a look.
Let's Do This!
I can feel your magic crackling and building. You're informed, inspired and irrepressible!
YOU-ARE-READY
And guess what? I have the supreme workbook for you to help you with your planning! I've organized tips, guidelines, brainstorming sheets, to-do lists, reward ideas, and more into this Goals Planner Worksheet! This thing is jam-packed full of incredible goodies!
Every Strong Plan Produces Strong Results…
Whether your focus is on personal, business, financial, spiritual, sentimental goals or altogether, it is imperative to set yourself up for success. Consequently, before you start reaching those goals, you must have a plan in place.
Once you start, you'll realize there are a multitude of benefits to goal setting. Yes, it will help you positively transform your business and your life. It'll boost your productivity! When you have a clear outline of what to do and when to do it, you'll be exhilarated.
Joe Pulizzi, from Content Marketing Institut, wrote a Goal setting activity post where he explains that if "you believe you can't, you are right"
No more procrastination! Generally speaking, this will help to keep you accountable. If you need a mindset boost, check my article "Self-improvement." You know you have a plan and you know you need to stick to it! Filling out the Goal setting workbook and having your plan laid out, step by step, will arm you with your own book. Reference it throughout the year to ensure you're staying on track. Capturing your thoughts on paper in an organized fashion will enable you to visualize your success!
Perfect Your Planning Potion Now!
You have all the information you need. Don't forget to grab your most essential planning tool – my Goals Planner Worksheet. I'm elated that I get to help you on your journey. Feel free to drop me a note in the comments section to let me know what you think of your new worksheet! We can always have a quick chat around a cuppa together. Simply book now your 15 min FREE Coffee and Chat
Do you want to come back to this post later? We made it easy for you!